Spain's Sara Perez Sala had been waiting for her first really big win in the Middle Distance for a while, and now she's finally got it. After a more than impressive race, she crossed the finish line first at The Championship. The fight was hard, the battle was exciting, and Perez Sala was therefore more than happy when she won."This is a dream come true."
In the water, exactly what was predicted happened; Lucy Buckingham and Sara Perez Sala dictated the swim thanks to a very strong effort. The British and Spanish athletes came out of the water after 24:53 minutes and then had a one-and-a-half minute lead over Fenella Langridge, Ashleigh Gentle, Emma Pallant-Browne, Sarissa de Vries, Lucy Bryham and Grace Thek.
On the bike, Buckingham and Perez Sala were lucky enough to stick together, although the collaboration didn't quite go from strength to strength. The wind was fierce and even though the ladies kept to the twenty-meter drafting distance, Buckingham regularly asked for some help from Perez Sala. Thus, the first psychological games started early in the race and more than once Perez Sala took over the lead in the race. Not surprisingly, because the two women were logically anxious not to let the chasing group get any closer. That worked out quite well, because while the chasing group fell apart and only Langridge and De Vries remained, the two ladies did ride two minutes behind.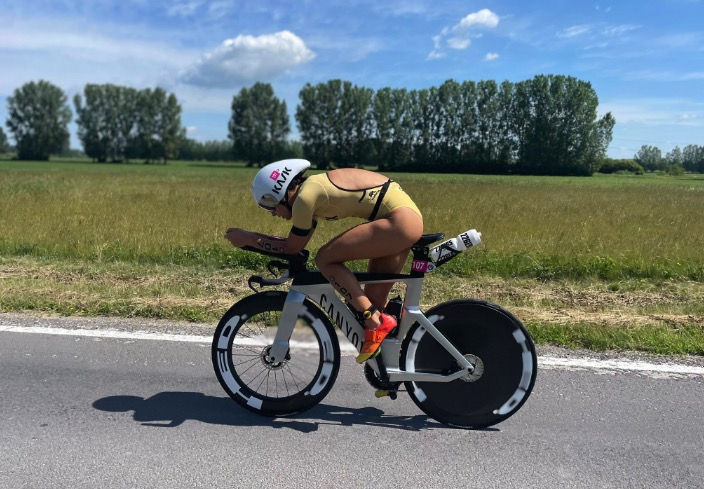 Still, Langridge and De Vries kept pushing and they did not do it without merit; it may not have been fast, but still they eventually narrowed their gap again. When the ninety kilometers on the bike were done, they came off the bike with one and a half minutes behind Perez Sala and Buckingham. The two front-runners rode the entire bike course together, varying in position. Behind the first four women, the gap was much larger; Ashleigh Gentle, Emma Pallant-Browne, Daniela Bleymehl and Lucy Bryam came into T2 seven minutes behind.
During the run, it was Perez Sala who immediately ran away from Buckingham; the Spanish seemed particularly strong, while Buckingham seemed to be having a hard time. The gap between the two grew quickly. Remarkably, that changed after about eight kilometers, when Buckingham, to just about everyone's surprise, suddenly returned closely behind Perez Sala. Meanwhile, Langridge and De Vries were constantly running at about a minute and a half behind.
Buckingham did not stay long with Perez Sala; that lasted at most a few seconds and then the Spanish athlete did open up a gap again. Meanwhile, it was Emma Pallant-Browne who started to catch up and made up minutes during the run. The British top athlete caught up with everyone – except Perez Sala – and therefore ran to a spectacular second place.
Perez Sala eventually won the race after 4:08:19. The strong Pallant-Browne became second in 4:10:12 and Buckingham was third in 4:11:05. Behind them, Fenella Langridge, Ashleigh Gentle and Sarissa de Vries finished fourth, fifth and sixth.