What a day for Magnus Ditlev. The Danish uberbiker just showed he can run too. Ditlev claimed an incredible victory at Challenge Roth, staying clear of – among others – Patrick Lange, who finished in second place. Ditlev needed 7:35:48 hours to complete his golden race. With that incredibly fast time, he missed Frodeno's course record from 2016 only by nine seconds. Silver was for Lange (+9:04) and Brazil's Reinaldo Colucci took the final podium spot (+16:48).
Jan Frodeno out due to an injury
Despite the incredible performances of all of today's podium finishers, Challenge Roth slightly overshadowed by Jan Frodeno's withdrawal. While still leading 3K into the run, Frodeno backed out due to an Achilles injury that's been bothering him for a longer time already. Overwhelmed with emotion, Frodeno ended up on the side of the road.
Frodeno later said: "It has been so up and down. The last couple of weeks have been tricky. I spent a couple of minutes on the side of the road contemplating the further sense of life. It felt OK for three kilometers into the run, but it was just inevitable that the tendon was going to give some trouble. I just try to take away the positives, even though my head now hurts more than my tendon."
Text continues below picture
Swim: two men ahead of the group
Together with Germany's Maurice Clavel, Frodeno exited the water in first place. With a swim time of 48:54 minutes, the two were well ahead of the rest of the field, because the big group only followed at about 1:30 minute. In that group were, among others, Kallin, Lange, Colluci and Weiss. Ditlev was exactly two minutes behind the first men, while Long was far back (+6:30).
Text continues below picture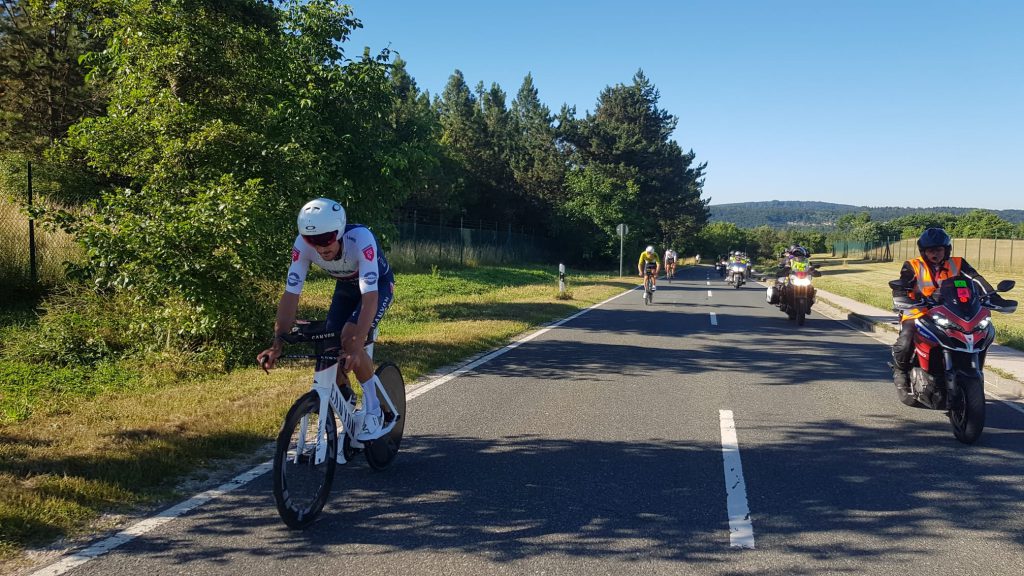 Lead group of five shrinks
On the bike, Frodeno, Clavel, Colucci, Kallin and Ditlev found each other to create a lead group. While the uberbikers moved forward, Frodeno pushed the pace too. Still, the five merged into a group 20K into the bike part. That the speed was constantly high – mostly thanks to Frodeno and Ditlev – became clear when people started to drop off: Colucci was the first person to let go of the group, Clavel followed and just before T2 also Kallin had to let go of Frodeno and Ditlev. Behind them, Long eventually caught up with Weiss and Lange, who rode in sixth and seventh place.
Messy transition for Frodeno, bike course record for Ditlev
With a bike time of 4:01:56 hours, Ditlev didn't only note the fastest bike split of the day, but he also broke Cameron Wurf's course record. There was some chaos in T2 for a little while, as Frodeno had lost his transition bag. The bag turned out to miss a bib-number, which meant it wasn't put in the right place. Fortunately, the bag was soon found so that Frodeno could continue his race for now. Despite the search, Frodeno was still the first athelte out onto the run course. Ditlev followed a few seconds behind him. Kallin had dropped off to two minutes, while Clavel's deficit had massively increased to over ten minutes. Long, Weiss and Lange racked their bikes in place 6-8 (+14:16).
Frodeno withdraws
While all triathlon fans were nervously watching Frodeno make a great comeback, they were surprised by the German athlete suddenly withdrawing from the race 3K into the run. To avoid any risk for his Achilles injury, Frodeno was forced to quit his race.
Now that Frodeno was out, Ditlev came running in first place. After approximately ten kilometers, the Danish athlete was still leading with a big buffer to his chasers. On this point, Kallin was 3:47 minutes behind Ditlev in second place, Lange in third (+12:44) and Long one minute behind him in fourth place.
Text continues below picture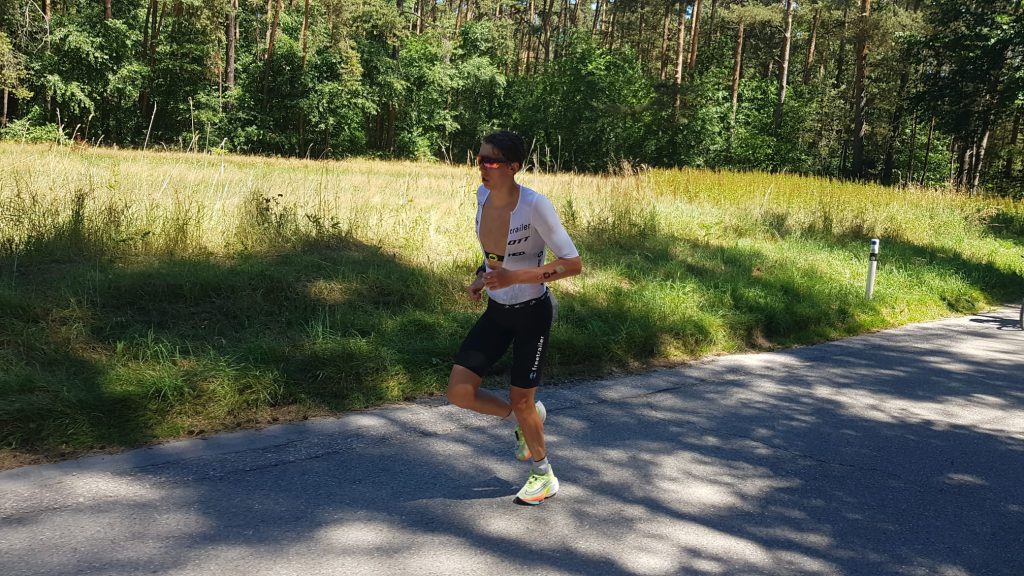 Ditlev untouchable on the marathon
That Ditlev knows how to ride a bike, is not new to us, but whether he could outrun athletes like Lange and Long, was still the question. But Ditlev was on fire. The gap between him and his chasers only widened. Behind him, Long started to struggle. Fifteen km into the run, South-Africa's Weiss passed Long. At the half-marathon point, Ditlev was 8:47 minutes ahead of Kallin, 11:29 minutes ahead of Lange and 14:33 minutes in front of Weiss.
During the second half of the marathon, none of that changed. Ditlev didn't seem to be bothered by the heat, and with a gap of more than ten minutes to his fastest chaser, there wasn't much to worry about. In the meanwhile, Lange had moved up to second place. Ditlev was untouchable, though. After 7:35:48 hours, the Danish talent lifted the tape and won Challenge Roth. Lange crossed the line in second place (+9:04) and Colucci impressively hung on for third (+16:48).