For almost the entire race it looked like Taylor Knibb would win the PTO US Open and with it $100,000, but in the closing stages of the run it was Ashleigh Gentle who decided the race in her favor. During the run, she made up a 7-minute deficit, making Gentle a more than deserved winner. Below you will find – from bottom to top – all the updates of what happened in the race.
—
4:00:00 – Top ten results:
Text continues below picture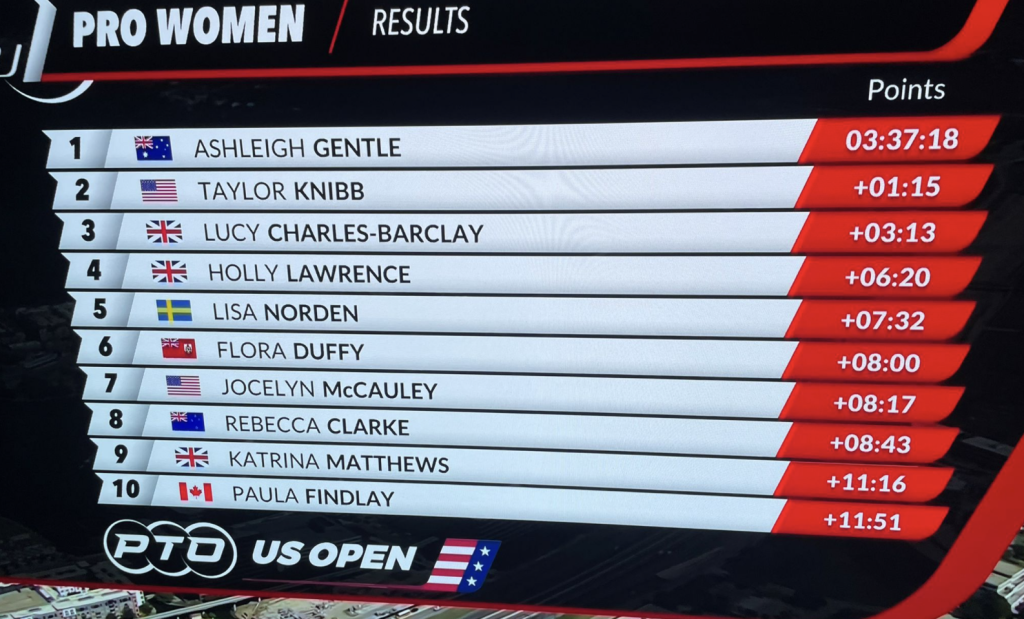 3:37:00 – Ashleigh Gentle does it and claims victory at the PTO US Open!
3:30:00 – With 2.5 kilometers remaining, it's a done deal: Ashleigh Gentle passes Taylor Knibb and is the new race leader.
3:25:30 – With four kilometers to go, the race really seems to be decided in favor of Ashleigh Gentle. She is only a minute behind Knibb, who really struggles with her run at this point.
3:13:00 – Six kilometers to go and leading Taylor Knibb begins to walk. Ashleigh Gentle is closing in on another minute and is only three minutes behind now.
3:08:00 – Ashleigh Gentle now also passes Lucy Charles and is thus the new number two. With 7.5 kilometers to go, Gentle has also made up another minute on Knibb: her deficit is down to four minutes.
3:00:00 – Three hours of racing and Taylor Knibb seems to be holding her lead. At four minutes behind, Lucy Charles is still running second. However, Ashleigh Gentle is closing in very quickly and is third, only five minutes behind. The finish line is still 9.5 kilometers to go.
Text continues below picture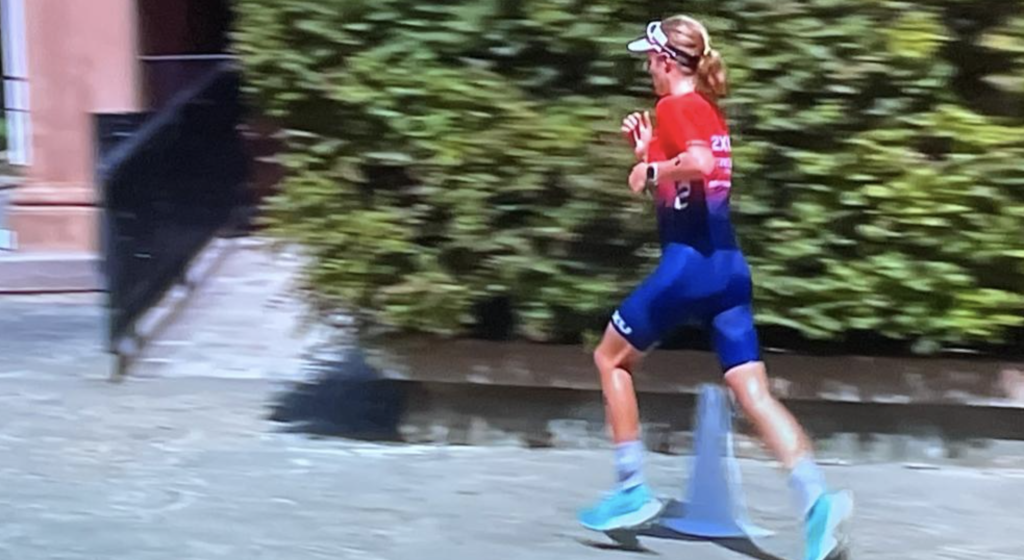 2:48:30 – Ashleigh Gentle is catching up tremendously and has just overtaken Flora Duffy. Gentle now lies third and is in the hunt for Lucy Charles.
2:36:00 – Flora Duffy is running away from the chasing group and thus is currently running third. The Olympic Champion is estimated to be the fastest runner of the day and thus has the prospect of a top ranking.
2:24:35 – Taylor Knibb returned to T2 as the first athlete and began her five laps – 18 kilometers total – of running. Lucy Charles followed almost four minutes behind. The chasing group behind came through at just under six minutes behind.
2:14:00 – Even in the final kilometers of the bike, Taylor Knibb does not weaken at all. Her lead over Lucy Charles has increased to three minutes, and the chasing group behind Charles follows at more than five minutes after Knibb. The women still have eight kilometers to bike before they begin their concluding 18km run.
1:48:00 – Lucy Charles is still riding second – at 2:20 minutes behind Knibb – but causing a stir mainly because she dropped several water bottles because she couldn't get them into her water bottle holder (behind her saddle).
Text continues below picture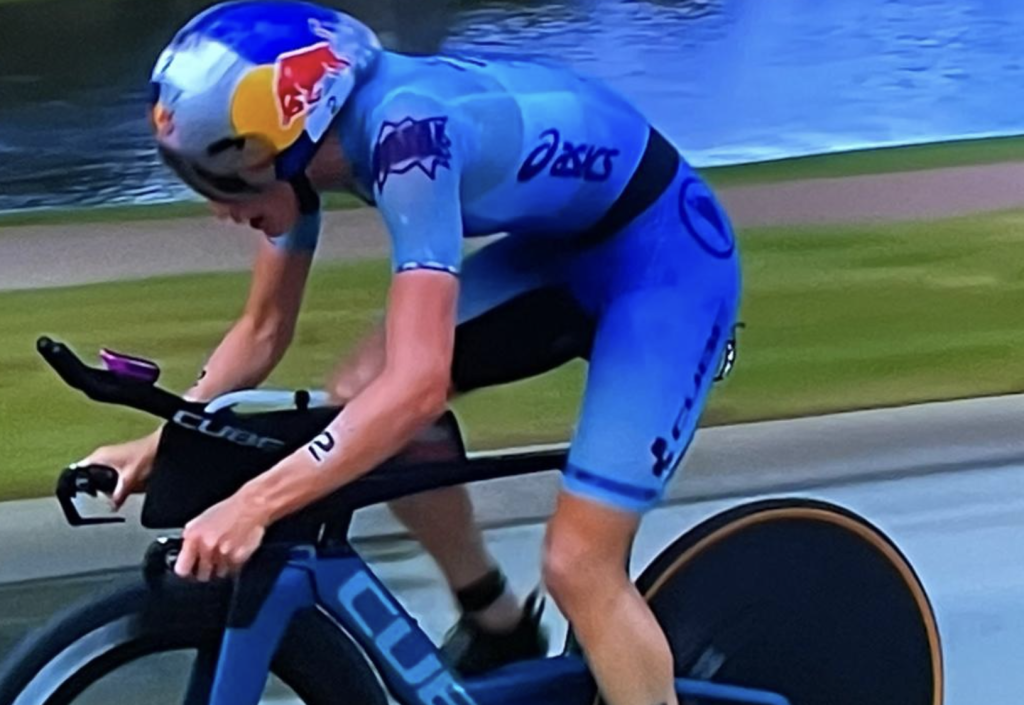 1:36:00 – Also Sarissa de Vries joins the chasing group now: Lawrence, Findlay, Duffy, Norden and De Vries are together in positions 3-7.
1:33:00 – The three chasing ladies see Lisa Norden join them. So these four women are riding in positions 3-6.
1:31:00 – The stakes are quite high today; the winner earns herself as much as $100,000.
1:28:30 – There is a status quo of sorts. Knibb continues to increase her lead slightly; Lucy Charles is now riding two minutes behind and the trio of Lawrence, Findlay and Duffy follows at just over three minutes. The bike is just over halfway through.
1:14:00 – The chasing group is falling apart considerably; Holly Lawrence, Paula Findlay and Flora Duffy are now the first three ladies in this group, yet they are already riding over 2:30 minutes behind Knibb.
59:00 – Knibb has one mission; to grab as big a lead as possible. Impressive how she is the fastest athlete going solo all the way. Lucy Charles had a flat tire, but was able to continue her race very quickly.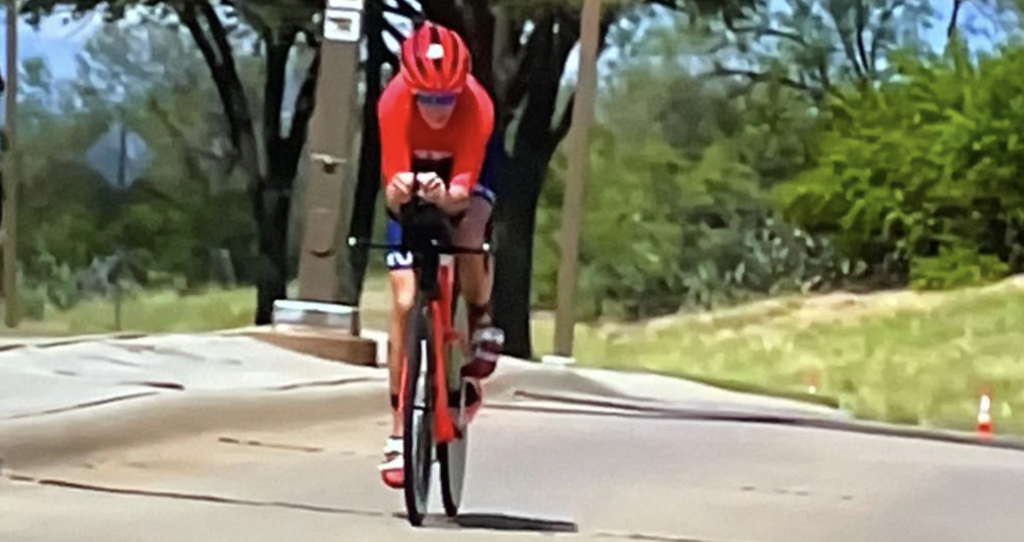 48:10 – Lucy Charles quickly lost time on Knibb, who already had a 30-second lead. The chasing group – consisting of Paula Findlay, Flora Duffy, Holly Lawrence, Fenella Langridge, Sara Perez Sala, Ellie Salthouse, Rebecca Clarke, Lisa Norden, Ashleigh Gentle and Sarissa de Vries – is also losing some time: they are 1:45 minute behind after about 15 kilometers of biking.
41:45 – Knibb does not wait and hits a gap on Charles. The American thus leads solo and now has a five-second lead on Charles.
40:00 – It's going really fast: Knibb and Charles are now riding a pace between 47-49 kilometers per hour.
36:30 – Taylor Knibb goes all out to close the gap to Lucy Charles and succeeds. From 20 seconds behind, she is back to five seconds now. Charles still leads the race, but will be nearly caught by Knibb. The chasing group follows at a minute and a half.
Text continues below picture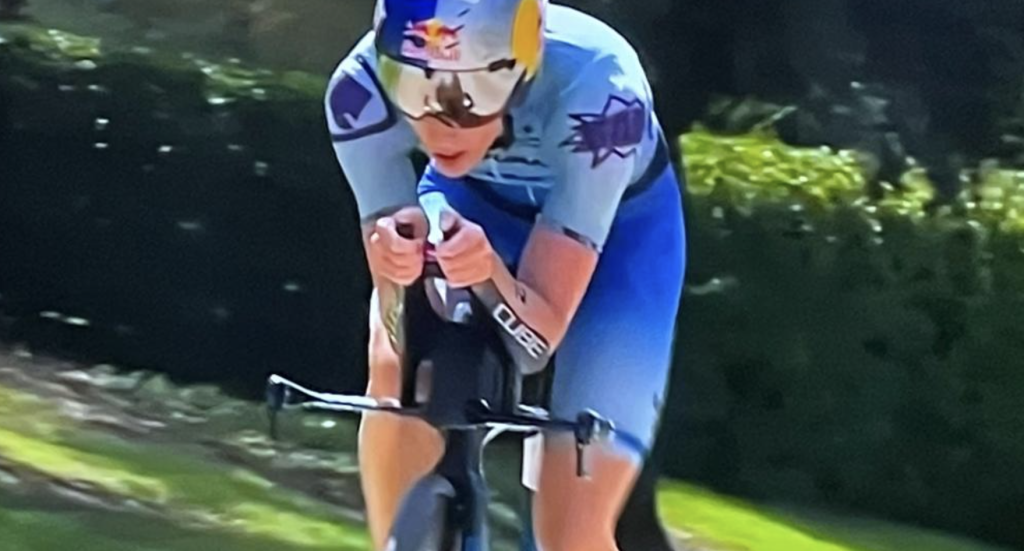 30:00 – On the bike, the athletes will complete seven laps and ride a total of 80 kilometers. Athletes who got lapped, will be eliminated from the race.
28:30 – At 1:10 the first chasing group followed out of the water. In this group a lot of favorites, including Flora Duffy, Imogen Simmonds and Holly Lawrence.
27:01 – After 27:01 minutes, it was Lucy Charles who came out of the water first, followed by Taylor Knibb at one second. However, the latter had a bad transition and lost quite some time there on Charles, who thus left on her own on the bike.
22:00 – Lucy Charles and Taylor Knibb are going really fast and do see their lead increasing on the first chasing pack. Lotte Wilms from The Netherlands is leading that chasing pack so far.
13:12 – The two leaders cover the first kilometer in 13:12. It is clear they want to swim as hard as possible today.
Text continues below picture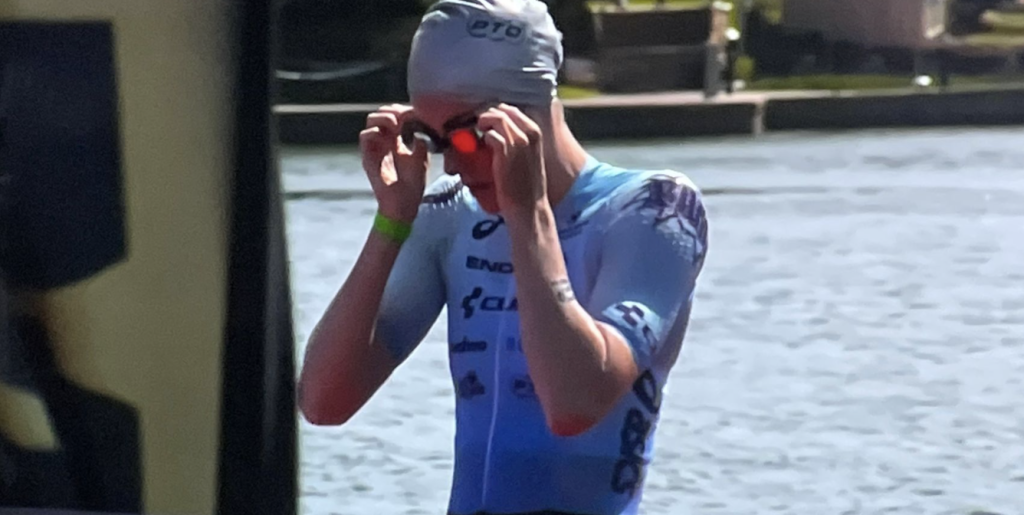 7:00 – Lucy Charles' swimming pace is impressive. Almost no one can follow her, not even the short-distance specialists. Only Taylor Knibb is able to stay close behind.
3:30 – Today's race distance is a 2km swim, 80km bike and 18km run.
1:30 – it's already Lucy Charles taking the lead in the swim.