It was a battle one could only hope for at the WTCS Final in Abu Dhabi: a direct duel between the two best athletes in the world: Flora Duffy and Georgia Taylor-Brown. In a race that was full of frenzy, including crashes and penalties, it was these two women who were once again the strongest and battled for victory. That honor turned out to be for Flora Duffy.
During the swim, a small leading group began to form very cautiously, although it was not yet definitive when Flora Duffy came out of the water first after 19:20 minutes. Once on the bike, the leading group did form: eight ladies at first, but when Taylor Knibb joined solo a little later, there was a leading group of nine women. In addition to Knibb, the leading group included Germans Lena Meissner, Laura Lindemann and Lisa Tertsch, Bermudan Flora Duffy, British Georgia Taylor-Brown and Beth Potter, Brazilian Vittoria Lopes and Dutch Maya Kingma. Tertsch lost the connection a few kilometers later, leaving a leading group of eight women again.
In that leading group a tactical battle ensued, sometimes looking at each other, but at the same time working well together to increase the lead on the chasing ladies. After a little less than twenty kilometers, all cooperation was suddenly thrown overboard and it was Duffy who went full on the attack and rode away from the leading group. It took a while for the other seven women to react and so Duffy created a lead of a few seconds. Still, she was unable to increase or maintain her lead, as a few hundred meters later the other women were already closing in. The tone for an exciting race was set. Meanwhile, Tertsch, Kirsten Kasper and Taylor Spivey tried to ride to the front at fifty seconds behind, but were unsuccessful so far.
After about 25 kilometers, Lindemann and Potter were also unable to keep up with the pace of the leading group and fell behind. That leading group was really pushing the pace, as the groups behind the leading group lost more and more time and were already more than two minutes behind. Meanwhile, Kingma suffered a disappointment; she was in the leading group of six, but learned that she would had to serve a penalty during the run because of 'bad behavior during the swim'. Why exactly the penalty was and what that 'bad behavior' meant, was not clear at this point.
With just under ten kilometers to go, KIngma suffered another setback: Taylor Knibb went down just in front of her – she slid on a sharp curve – and Kingma could no longer avoid her American competitor: she too landed on the ground. While Knibb did need a while to get going again, Kingma was able to get up faster and continue her way, but both ladies lost connection with the leading group.
After 40 kilometers on the bike, it was Duffy, Lopes, Taylor-Brown and Meissner who were the first to start the run. Not much later, Kingma and Knibb followed into to T2: they followed just thirty seconds later. Behind them, the differences were much bigger, with the next women not following until 2:30 minutes later.
The running pace was mercilessly high right from the start: Taylor-Brown just barely set a sprint as she left T2 and ran away from everyone. Lopes and Meissner were seen immediately – though of course they were still running in great positions – and not even Duffy could follow immediately. For about two kilometers, Duffy ran at a ten-second gap, but then she managed to close the gap to Taylor-Brown. Meissner followed at thirty seconds, Lopes fourth at 50 seconds, and then Knibb (+1:20) and Kingma (+1:50) followed in fifth and sixth. 
Text continues below picture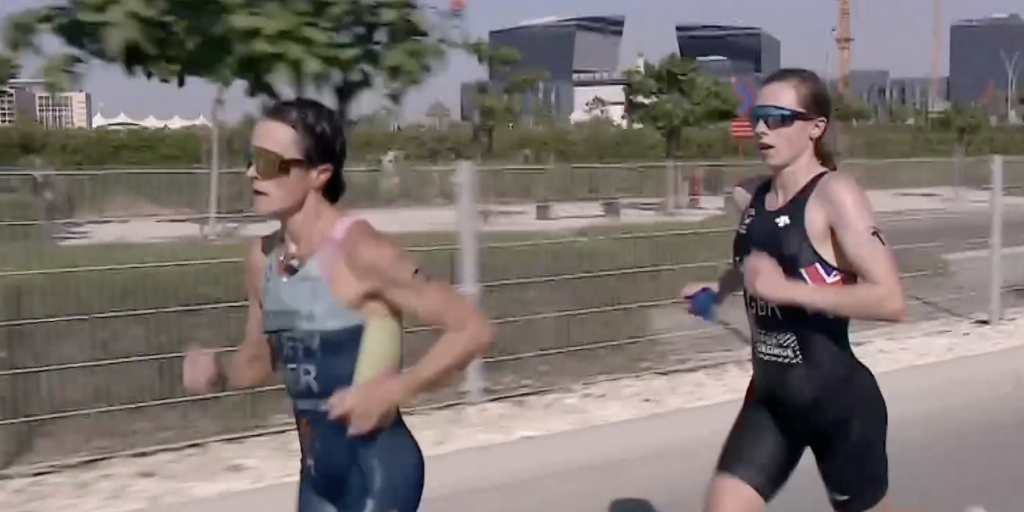 Halfway through the run, Duffy found it the right time to accelerate and within a very short time she ran away from Taylor-Brown, who had no chance of keeping up. From then on, therefore, the tension within the race was gone and the winner was clear already.
Duffy did win the race in a time of 1:53:24. Taylor-Brown finished second 1:04 minutes later. Meissner finished emotional as third, just 2:35 minutes behind Duffy.