In a race that became very exciting in the final kilometers – four men were running very close together – it was Vincent Luis who prevailed: he just won Clash Daytona. After the swim he was already in the lead, during the bike he lost the lead position but during the run he took it back again. There was a lot of threat from behind but Luis did not let himself get crazy and so ran to a nice victory.
During the swim, it were two short-distance specialists who took the initiative: first Henri Schoenman and then Vincent Luis. The two led the swim from start to finish and eventually came out of the water first. They did so after 20:18 minutes (1600 meters), immediately followed by Seth Rider, Matthew Sharpe and Braxton Bokos. 
Text continues below picture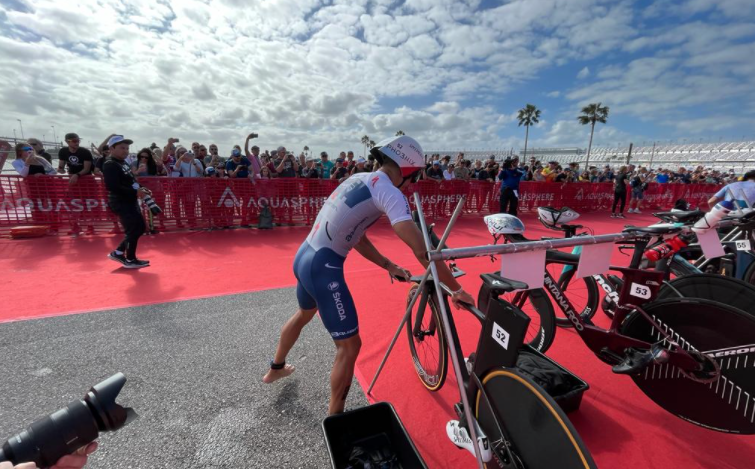 These five men therefore began the bike (60.2 kilometers) as the leading group, but it was the American Bokos who soon lost the connection and the Canadian Sharpe also could not keep up with the high pace after a few kilometers. That left only Rider, Luis and Schoeman, the three of them leading the race.
Of the three, Rider did most of the leading work and that worked well, because at the halfway point they had a forty-second lead over Sharpe, who thus kept a pretty good connection even though he was dropped earlier. Further behind, it was Thomas Bishop on the bike who was working on a strong catch-up; he was fifth at 48 seconds. Behind Bishop, a large group was riding at a minute and a half behind: best known names here included Kieran Lindars, Jason West, Jonas Schomburg and Andrew Starykowicz.
Less than ten kilometers further, the race began to get more exciting, because that's when Bishop joined the leading group. In fact; he immediately passed the leaders and appeared to have really strong legs. The three former leaders tried to catch up with Bishop, but were unsuccessful and had to let him go. 
What followed was very impressive: within a few kilometers, Bishop managed to build his lead to over a minute. Meanwhile, it was the always strong biking Starykowicz who also passed Luis, Rider and Schoeman. In the end, Bishop began his run with a lead of 1:03 minute over Starykowicz, 1:15 minute over Luis and Rider and Schoeman followed some more behind at 1:40 minute. 
Text continues below picture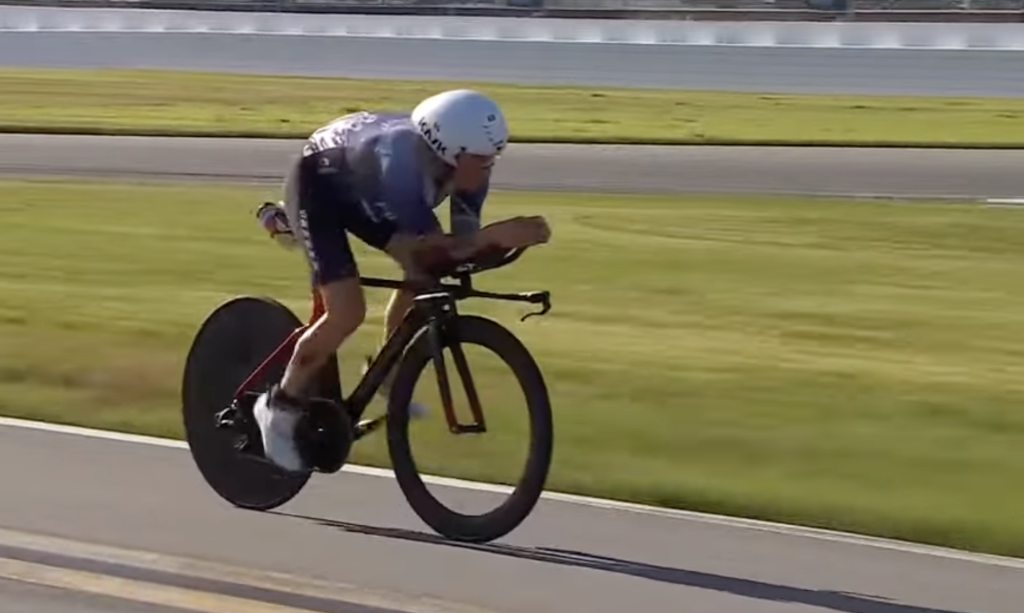 In the first of three running laps – in total athletes had to run just over 13 kilometer – Bishop managed to hold his own, but on the second lap Luis suddenly began to quickly catch up to him. With about six kilometers to go, Luis was already close to half a minute. Meanwhile, Joao Pereira and Jason West were also running to the front; they were third and fourth, running side by side, even sharing each other's water, and following by just under a minute.
By the time Luis passed Bishop, only 1.5 kilometer later, West and Pereira had meanwhile narrowed to just 30 seconds: the two were clearly running the fastest of the entire field, so at that point it was also clear that the battle for victory would be between Luis, West and Pereira. With four kilometers left to run, the battle was still completely open and thus undecided.
Pereira eventually proved to be the strongest of the chasers, but was still unable to run to Luis. He came close, but it was just barely right and even lost a little time in the final kilometers. Luis therefore won the race in a time of 2:23:48. Just 24 seconds later Pereira followed in second and West was third at 1:10 minute behind.