There will probably have been few who had put their money on Angelica Olmo as the winner of Clash Daytona, but the Italian athlete has just won the race after all. For a long time it looked like Spain's Sara Perez Sala would win, but for the umpteenth time luck was not on her side in the USA and she was still caught up in the closing stages. The battle produced an exciting race for sure.
It were two athletes who got away together during the swim, and from both athletes it was pretty much expected: Belgium's Valerie Barthelemy and Spain's Sara Perez Sala. Both are particularly strong in the water, and Perez Sala additionally had some making up to do from earlier this year, when she was leading at Clash Miami – of the same organization – but rode into a pylon during the bike, fell hard and was forced to drop out.
As usual, the distance of Clash Daytona was different than we are used to: there was a 1.6 kilometer swim, 60.3 kilometers of biking and 13.2 kilometers of running. Perez Sala and Barthelemy came back jointly out of the water; the swim took them 22:22 minutes. First chaser was Julie Derron, who along with Haley Chura and Sif Madsen followed just over half a minute towards T1. Jackie Hering, the defending champion and home favorite, came out of the water in 13th place, more than two minutes behind.
Text continues below picture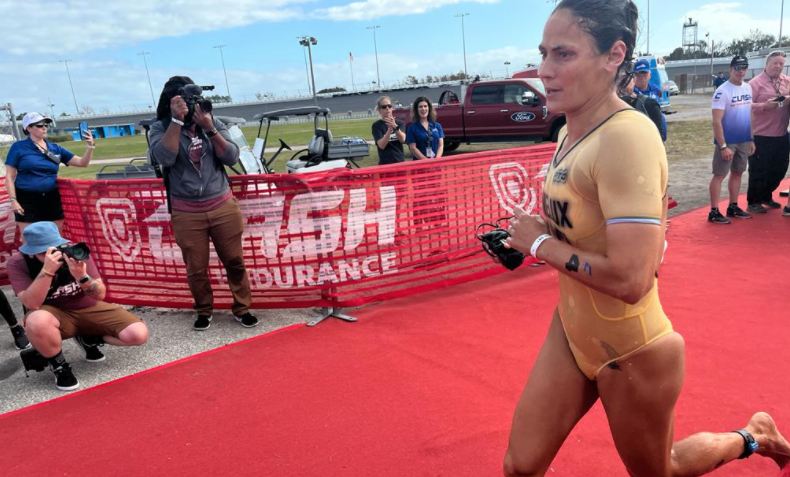 On the bike, Perez Sala immediately decided that she preferred to ride by herself, as she immediately dived into an aero position and rode away from Barthelemy. It was very impressive to see Perez Sala on the bike: apart from her legs, her body was not moving at all, and with that the Spanish athlete showed how you should be on the bike as an athlete. That spectacular posture on the bike brought her a lot, because after twenty kilometers, her lead had increased to one minute over Madsen, who had passed Barthelemy moments before. The above differences remained the same until the ladies began the run.
Meanwhile, while Barthelemy was getting further and further away, the Danish Madsen began to ride very strongly; it wasn't going quickly, but she kept gaining some time back compared to Perez Sala for quite some kilometers, but in the end kept riding about forty seconds behind. Italian Agelica Olmo also rode well and was in third place , just over a minute behind Perez Sala. The next women followed already more than three minutes behind. Meanwhile, Perez Sala continued to ride very strongly and she showed no sign of fatigue. The above differences remained the same until the women began their run.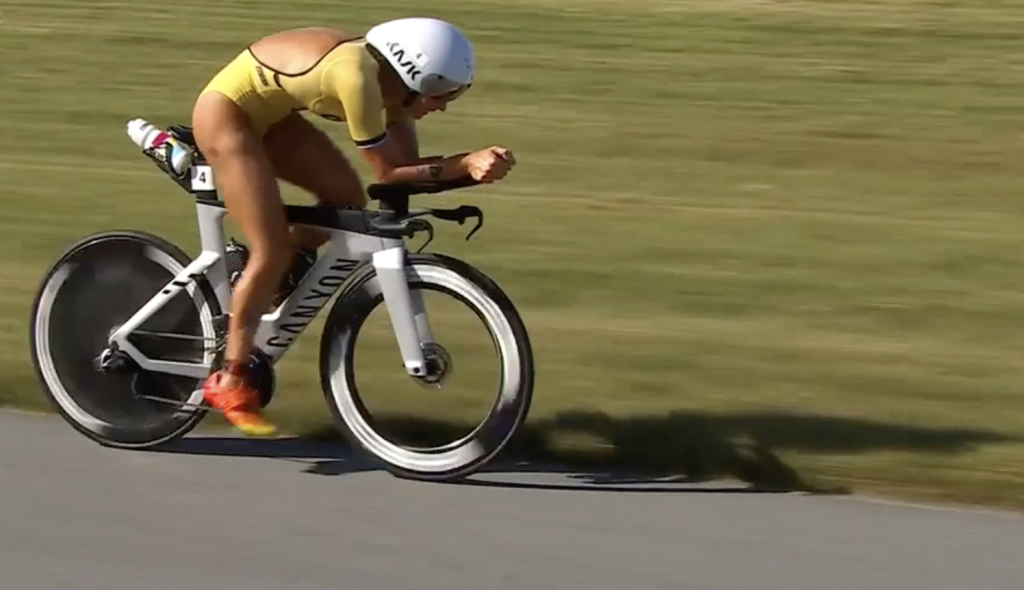 For the first few kilometers it looked as if Perez Sala would have a relatively easy run to victory – her lead over Madsen was rapidly increasing – but nothing could be further from the truth: by the time the first of three running laps was over, Olmo had already passed Madsen and the Italian was only 20 seconds behind the Spanish leader. Downside for Perez Sala: the running course took place again on the Daytona race track, which meant that Olmo could constantly watch her back and thus also saw that she was catching up fast.
While the run became a real battlefield – several women had to walk with cramp symptoms – Olmo was just keep pushing very impressively: after just over six kilometers she passed Perez Sala and thus took over the lead in the race. Behind her, things were also happening, as Madsen was losing more time and positions and had already been overtaken by Derron – who was now running third – and Hering. However, these women were too far behind to have any chance of victory.
Text continues below picture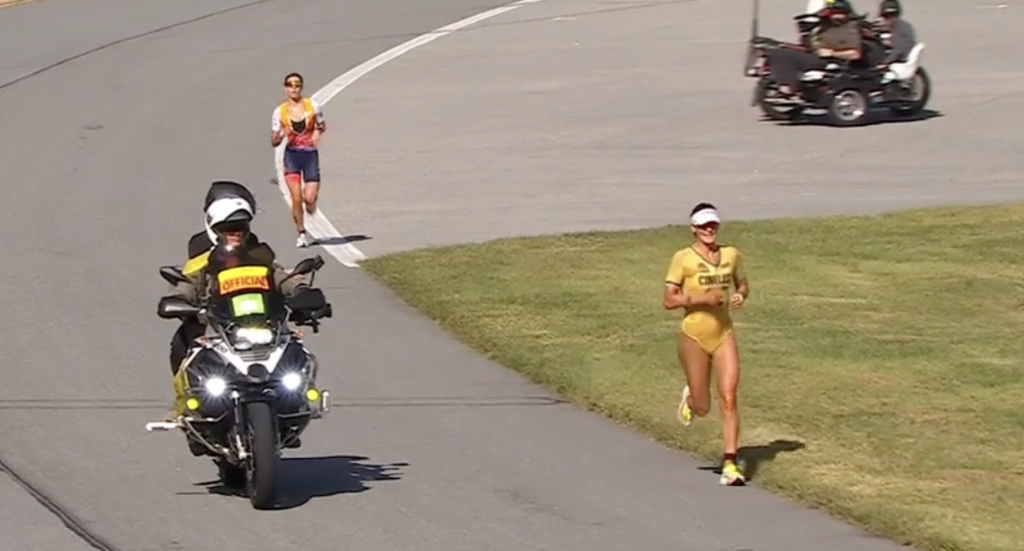 No matter the tough times Perez Sala was having; she kept pulling out all the stops to stay close to Olmo, and succeeded. The Italian grabbed a lead of about 15 seconds, but did not manage to get any further ahead. The final kilometers thus became quite exciting.
Still, Olmo managed to secure her victory. She did so in a time of 2:40:11. It was nice to see the winner cross the finish line in tears. Just 28 seconds later, Perez Sala took the silver. Derron finished third in 2:41:55.