In a race filled with excitement, thrills and spectacle, Jack Moody and Grace Thek just picked up the win at Challenge Wanaka. All sorts of things happened in both the men's and women's races, but in the end the strongest two athletes won mainly thanks to a particularly strong run.
The men's race went in all directions. Sam Osborne went into T1 first, but with a time of 25:47 minutes, he had men like Jack Moody, Caleb Noble, Guy Crawford and Fraser Walsh immediately following. Mike Phillips – with the fastest swim time – came into T1 a few seconds later and then of the biggest favorites, Sebastian Kienle, followed 1:50 minutes behind the leader.
On the bike, a leading group immediately formed, which began to fall apart after a few kilometers already. Phillips, Noble and Moody took off with the three of them, while Kienle and Matt Burton gained more and more positions from behind. Yet they did not manage to make up time on the race leaders: they even lost time and were two minutes behind after thirty kilometers on the bike.
In the leading group, it was then Moody who couldn't keep up with the pace of Phillips and Noble, but after fifty kilometers Noble couldn't keep up either. So, Phillips found himself solo in the lead from that moment on and that would not change during the bike anymore. Once back in T2, Phillips, who was riding incredibly strong, had a 2:20 minute lead over Burton and Kienle, while Noble lost a lot of time in the closing stages and came back fourth with a 1:58 minute deficit. Moody followed in fifth at 3:10 minutes, while temperatures were rising considerably and would make for a tough run.
During the run – largely offroad on a tough and technical course – Phillips played all or nothing, but he could not prevent Moody, the very man with the biggest deficit in T2, from closing in hard. Halfway through, Moody had already narrowed to just 1:04 minute behind and in the process had advanced to second place. Kienle came through in third at 1:55 minute and then Noble and Burton followed in fourth and fifth, four and five minutes behind respectively.
In the second half of the run, Moody kept getting closer, until finally, with a few kilometers to go, he even passed Phillips. Thus Moody eventually won Challenge Wanaka in a time of 3:58:01. Phillips finished second in 4:00:22 and Kienle rounded up the podium in a time of 4:02:57.
Text continues below picture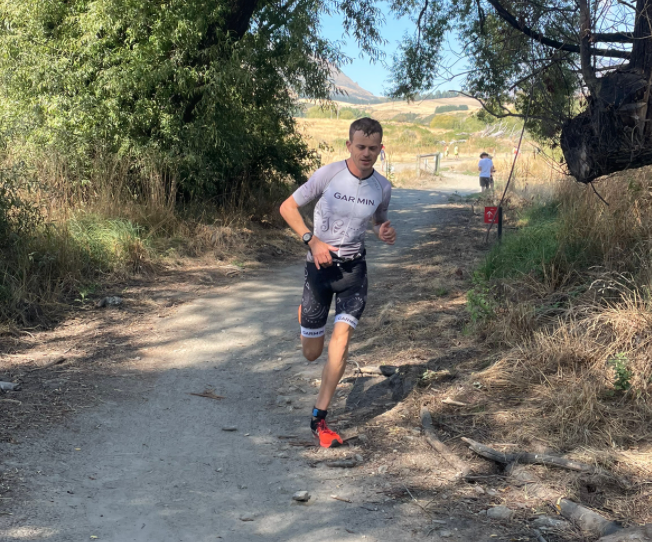 Women's race – Thek owns the run
A lot happened in the women's race as well. It was initially Lotte Wilms who led the swim and Rebecca Clarke was the only one who could follow. In the end, Clarke even passed Wilms – who is known for her always very strong swim – in the final meters and came out of the water with a 20-second lead. Grace Thek followed at 1:54 minute and at 2:25 minute behind, Els Visser also headed for T2.
Clarke then took off on her own on the bike, and even though Wilms kept riding at about twenty seconds, the Dutch athlete did not manage to ride up to Clarke. Meanwhile, Visser began to ride more and more to the front and pretty soon she caught up to Wilms. Wilms had no answer to that, because while Visser rode on immediately and also overtook Clarke, Wilms just started to lose more and more time until she was more than three minutes behind and eventually dropped out of the race.
At the same time there was a nice duel between Clarke and Visser, as the two alternated several times in the battle or the lead position. Unfortunately, both women – most likely – missed a turn which caused them to lose a little time and Thek, shortly before T2, also caught up. So, the three women started the half marathon at the same time and the battle for the medals was still wide open.
However, during the run it soon became clear that one lady was the best runner: Thek. She immediately ran away from Visser and Clarke and saw her lead increase. Her victory was no longer in danger and she eventually won the race in a time of 4:32:30. Visser followed second at +2:29 minutes. Clarke finished third at +7:34 minutes behind.