It wasn't Kristian Blummenfelt, Jason West, Sam Long, Lionel Sanders or any of the other big favorites, but Rico Bogen. The young German just experienced a more than special day by impressively winning the World Championship Ironman 70.3 Lahti.
Triathlon Today published a live ticker from start to finish, with constant updates and background information. You can find our live ticker below. If you read from the bottom to the top, you'll be fully informed of everything that happened during the Ironman 70.3 World Championships.
LIVE TICKER:
Top ten finishers:
Rico Bogen 3:32:22
Frederic Funk +1:03
Jan Stratmann +1:48
Mathis Margirier +2:42
Joshua Lewis +4:22
Youri Keulen +5:34
James Teagle +5:45
Marc Dubrick +6:06
Thor Bendix Madsen +6:06
Menno Koolhaas +6:20
3:35:00 Frederic Funk finished second at 1:03 minute behind Bogen. Stratmann third at 1:48 minute.
3:32:22: Done and dusted! Rico Bogen finished the race and crowned himself as the brand new World Champion Ironman 70.3!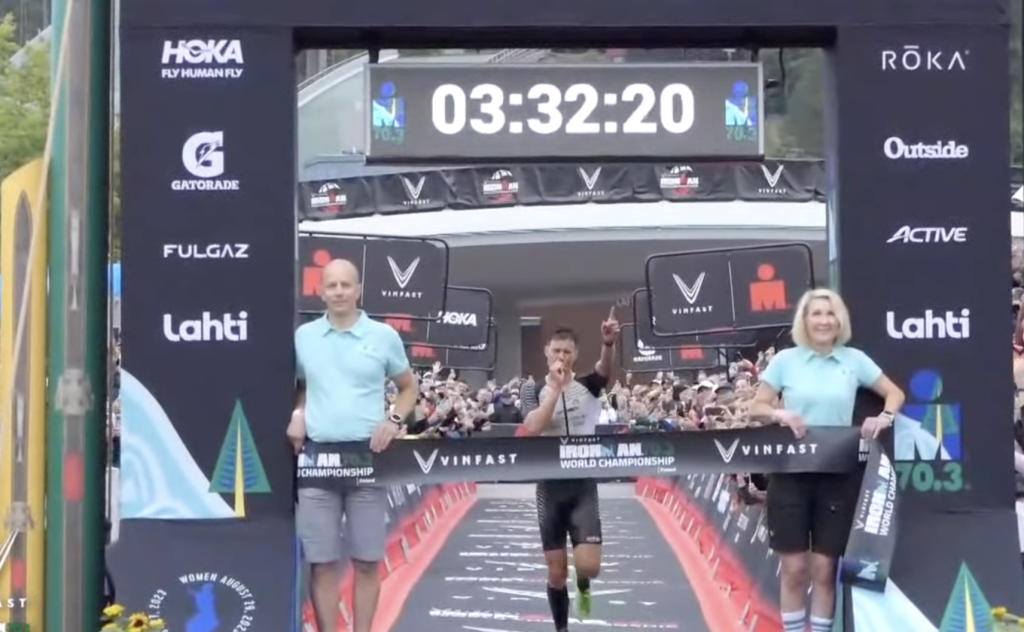 3:28:00: Margirier is completely parked and loses his podium spot in the closing stages. Stratmann flies past him and still goes third. And thus the all-German podium is a fact.
3:24:00: Rico Bogen is going to do it. Less than three kilometers to go and his lead over Funk is up to 1:20, while Margirier is running third 1:52. Stratmann looks like he's going to lose the battle for bronze, as he's now losing time again quickly on the men in front of him.
3:16:00: No mercy from Funk. The German pushed through and immediately runs away from Margirier. But, his pace is slower than Bogen's and so – with less than five kilometers to go – it looks seriously like Bogen will crown himself World Champion.
3:14:00: If Margirier does not recover, Stratmann will also pass the Frenchman. That would mean that with Bogen, Funk and Stratmann we would have an all-German podium. But, it's not that far yet, as Margirier is trying to catch up with Funk at all costs. One thing is for sure: Stratmann is currently running about six seconds per kilometer faster than Margirier.
3:11:00: Six kilometers to go for Bogen and the German is still on course to take a historic world title. At the same time, Funk is running past Margirier, which happens 1:10 minutes behind Bogen.
3:04:00: It's going to be some tough kilometers for Bogen anyway, as his lead increases, but his face shows more and more signs of fatigue. The German is in pain and it doesn't come easy.
3:01:00: Bogen's lead is getting bigger and bigger and at the same time Margirier now looks like the man to worry about. Funk is getting closer again and is already watching the Frenchman's back. Only twenty seconds remain between the two, while Stratmann cannot get his thirty-second gap smaller.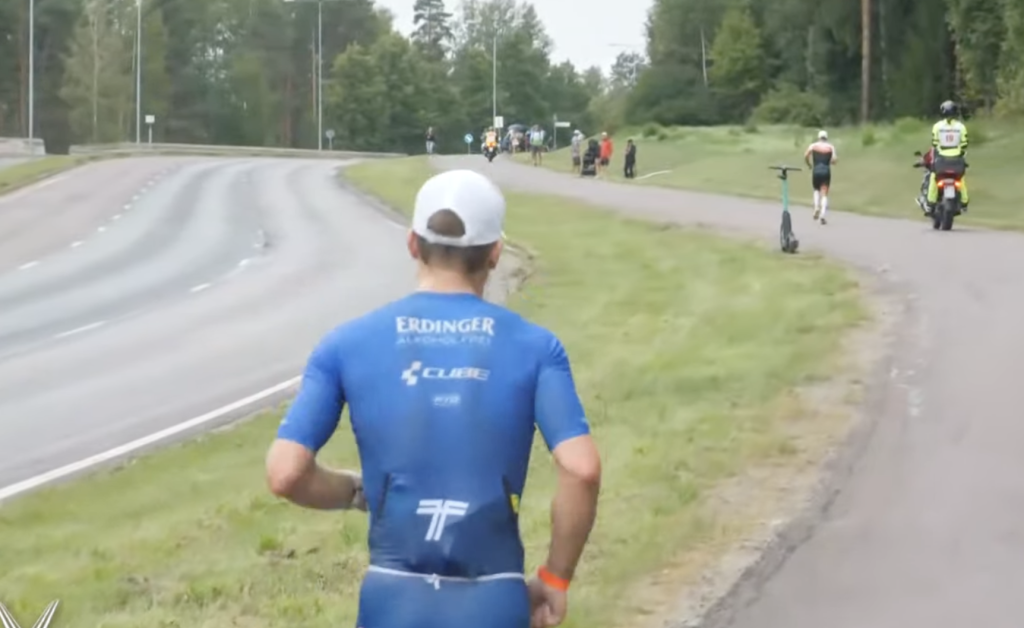 2:56:00: Will Rico Bogen provide the biggest surprise of this World Championship? the German has just started his second (of two) running laps and has extended his lead over Margirier to 34 seconds. It's impressive, because especially on the climbs things are looking particularly tough for him. Funk follows at 54 seconds and seems especially anxious not to let Stratmann pass him. Stratmann is in fourth position and is less than half a minute behind Funk.
2:49:00: According to crowd along the course, Lionel Sanders abandoned the race after he was given a penalty. He allegedly yelled at IM CEO Andrew Messick that he will never race an Ironman again.
2:46:30: Jan Stratmann is still running fourth – at 1:18 minute – but is now running five seconds per kilometer faster than Funk. Thirteen kilometers to go so anything is still possible for Stratmann as well.
2:45:00: Bogen is running strong and not slacking off. Still, his lead over Margirier – now 23 seconds – remains the same. Funk also follows well, but is now running 40 seconds behind. Bogen and Margirier run 3:23 per kilometer, while Funk runs slightly slower with a 3:29 pace.
2:39:00: While Bogen pulls through nicely at the front, Margirier is now slowly but surely running away from Funk. The battle for the podium is wide open, but seems to be playing out mostly around these three men. All the men behind the trio are losing time for now.
2:37:00: After the first four kilometers on the run course, Rico Bogen leads by 15 seconds. Behind him follow Margirier and Funk, while Jan Stratmann is fourth, trailing by a minute. Joshua Lewis is now running fifth at 1:24 minute.
2:29:00: Funk and Margirier are still running side by side, but are now visited by Rico Bogen. Indeed; the German places a gear and passes the two immediately.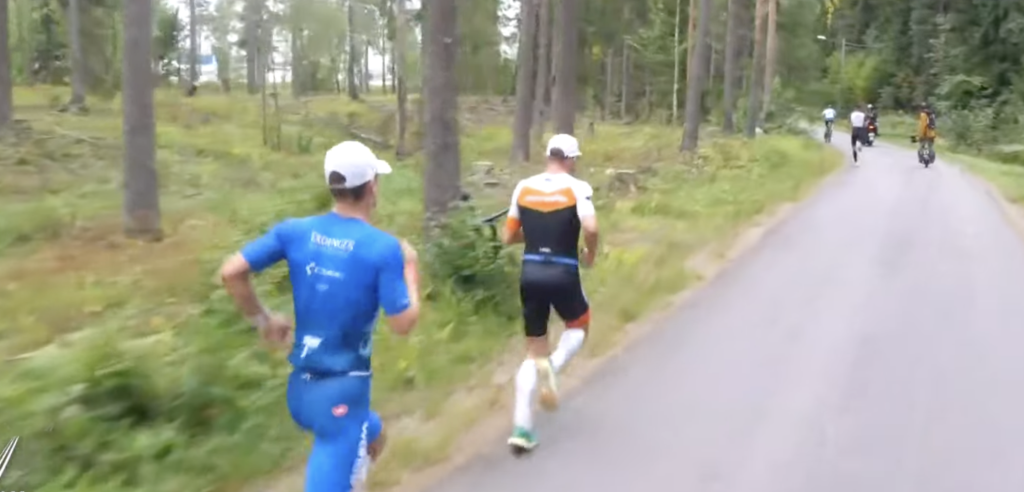 2:25:00: The chasing group, including Sam Long, is entering T2 four minutes behind the leading group.
2:23:00: All athletes run two laps today, including two climbs per lap. The run course is certainly not easy.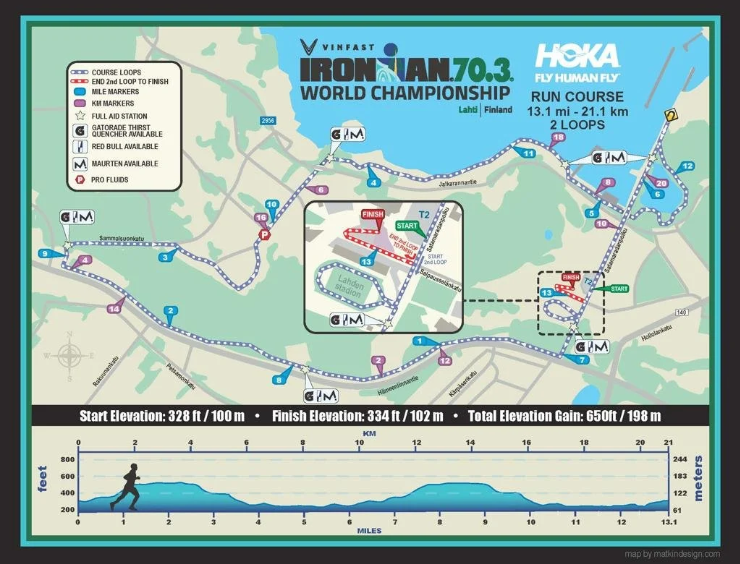 2:22:00: In the first kilometer of the run, Margirier and Funk go side by side. Margirier is – on paper – the stronger runner of the two.
2:20:00: The lead group is in T2. A quick transition will have to lead them to the 21.1 kilometer run. In the final kilometers, Funk and Margirier gained 20 seconds on Bogen, Stratmann, Nieschlag and Lewis.
2:18:00: Last year's protagonists – Kristian Blummenfelt and Ben Kanute – unfortunately don't have it today. Kanute is riding at 7:15 minutes behind and Blummenfelt at 7:37 minutes behind.
2:16:00: With the lead still increasing – nearly 3:30 minutes – the leading group will start the closing half marathon in at least splendid position within now and a few minutes. At stake is the Ironman 70.3 world title.
2:10:00: With ten kilometers to go on the bike, the lead group of six remains together. Funk now leads the field and seems to be stepping it up a notch. Just before T2 comes the steepest climb of the day.
2:03:00: The chasing group is doing everything they can to stay as close as possible to the leading group.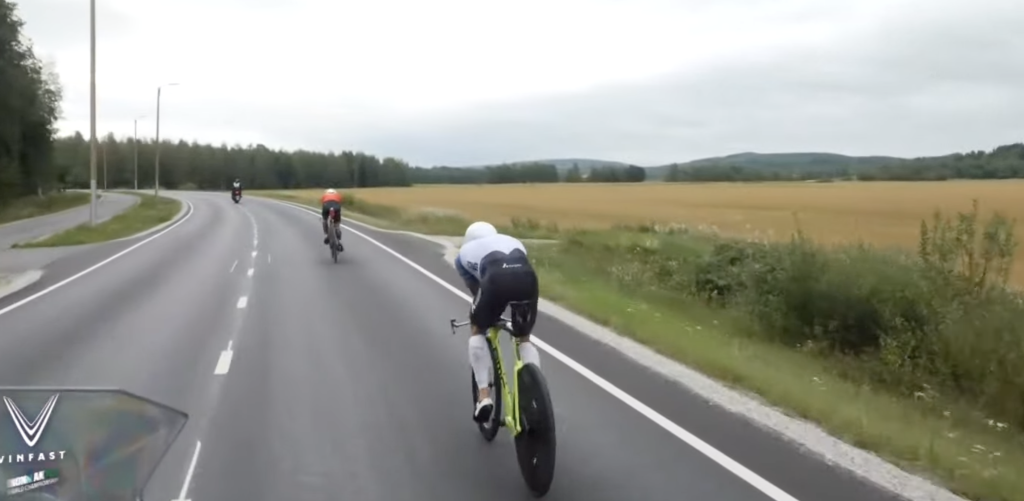 2:01:00: Painful moment for Kristian Blummenfelt: the Norwegian is being overtaken by more and more men and is losing a lot of time. At this point he is already more than five minutes behind the leaders. Title prolongation seems out of the question.
1:59:00: The first chasing group is now more than three minutes behind and Lionel Sanders missed the connection here due to a penalty.
1:56:00: The leading group feels by everything that their lead is getting bigger and bigger, so they are working well together. Twenty kilometers to go. For now, the big question is mainly: will Blummenfelt have an off-day or will he go full out during the run soon?
1:50:00: That huge chasing group also broke up. Lionel Sanders, Sam Long, Thor Bendix Madsen, James Teagle, Matt Trautman, Filipe Azevedo, Youri Keulen, Martin Ulloa and Antony Costes are left. Twenty seconds behind them, Jackson Laundry, Franz Loeschke and Kristian Blummenfelt are following. Behind the three of them, another huge group is following at thirty seconds.
1:47:00: The pace of the lead group is at least impressive: the large chasing group with men like Blummenfelt, Long and Sanders, lose time again and are now almost three minutes behind.
1:44:00: Of the leading group, Nieschlag is perhaps the best runner. Or rather; the runner with the highest maximum speed. But whether that comes out on a half marathon – after such a fast bike leg – is of course the question.
1:42:00: With an average of over 45 kilometers per hour, over 60 kilometer on the bike is done. Sperl has lost connection with the leading group, so in addition to Margirier and Funk, only Bogen, Stratmann, Nieschlag and Lewis are left.
1:40:00: Margirier is a man on a mission: to start the run with as big a lead as possible. He seems to be riding full gas at this point.
1:33:00: Bad news for Miki Taagholt. After mechanical breakdown, he quited the race and he is brief about it. "This is a huge disappointment," he said.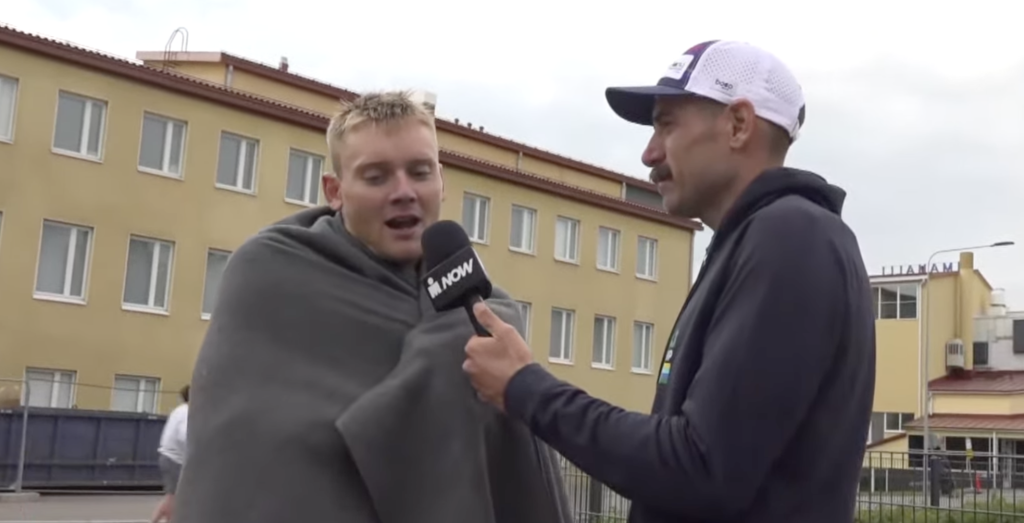 1:27:00: While Margirier now leads the leading group again, the pace has picked up. This is immediately reflected in the differences, as the chasing group has lost some 20 seconds and is now riding at 2:30 minutes behind.
1:25:00: For now, not a lot is happening. In the leading group of seven things are going about as fast as in the chasing group and so the difference remains the same. Forty kilometers to go on the bike and so now the toughest part begins.
1:18:00: The deficit of the large group remains the same, constantly around two minutes. That says quite a bit about Funk's pace.
1:15:00: While Frederic Funk is pushing in the lead, it is costing several men the connection. Especially Lewis and Nieschlag seem to lose connection with the leading group. Kanute in particular is losing a lot of time; he is now 1:25 minutes behind.
1:06:00: Funk pushes the pace, leading the front group now. The German is riding at 5.1 watts per kilo.
1:03:00: It is an difficult position for Kanute, as it means he is riding solo and a bit in no man's land. At 1:20 minute behind the American – and thus 1:40 minute behind the leaders – a huge group of 25 athletes is riding. In that group Sam Long, Lionel Sanders and Kristian Blummenfelt (picture) among others.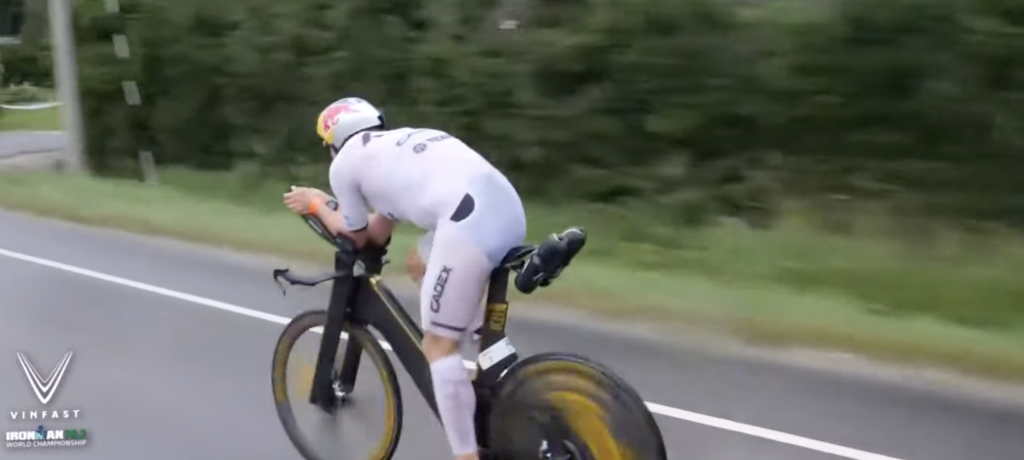 1:01:00: The leading group consists of Maximilian Sperl, Mathis Margirier, Frederic Funk, Rico Boegen, Jan Stratmann, Justus Nieschlag and Joshua Lewis. Ben Kanute follows in eighth, but is 20 seconds behind the leaders.
59:00: The weather conditions are a lot more unfavorable than yesterday. It is raining quite heavily at times and the roads are now completely wet.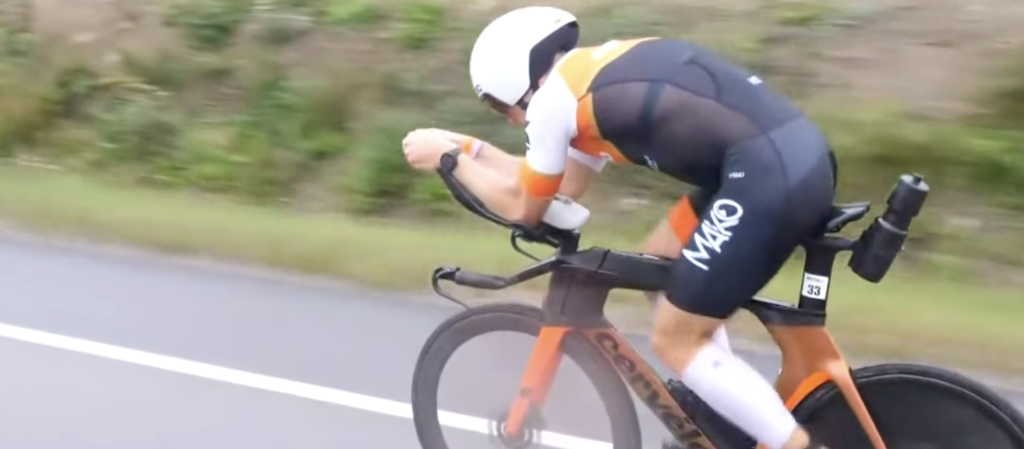 57:00: Sam Long and Lionel Sanders may be more than two minutes behind, but they are catching up with a lot of guys. They have already gained about 15 positions.
56:00: The lead group has now grown to a group of seven athletes. Among others, power biker Frederic Funk has joined – making up almost a minute.
48:00: Hold on; the first 15 kilometers went at an average speed of about 48 kilometers per hour. Bizarre.
44:30: Blummenfelt may be in a group, including Thor Bendix Madsen and Antony Costes, but still he has lost ten seconds and is now 1:41 minute behind. Lionel Sanders and Sam Long are also losing some time for now and are now riding nearly 2:30 minutes behind the race leaders.
42:40: After the first fifteen kilometers, we have Mathis Margirier, Rico Boegen and Justus Nieschlag in the lead. Ten seconds behind them follow Jan Stratmann and Maximilian Sperl, and twenty seconds behind the leaders follow Johsua Lewis and Ben Kanute.
37:00: The men in the lead group all seem a little afraid of penalties. Yesterday we saw a lot of women in the penalty box and now no one wants to be behind someone else. Now Jan Stratmann goes to the front and so the German leads the race.
35:00: The roads are pretty damp. Let's hope for not too many flat tires or – worse – crashes.
33:00: Frenchman Mathis Margirier now takes over the lead in the leading group. It is not the first time this season that he has asserted himself on the bike. Margirier may not be the biggest favorite for victory, but definitely can be seen as a more than dangerous outsider.
29:30: The bike course is one lap of 90 kilometers. Taylor Knibb, who yesterday became world champion for the second time in a row, revealed that the second half of the bike course is much tougher than the first half. There are quite a few climbs to overcome.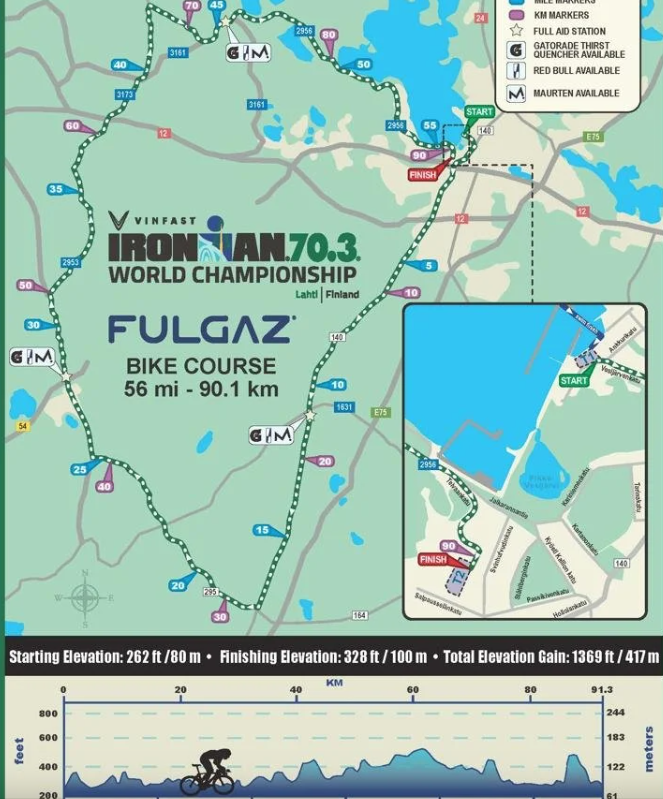 24:00: Kristian Blummenfelt is having a particularly bad swim. The defending champion comes out of the water in 28th and is 1.16 minutes behind. Lionel Sanders and Sam Long come out of the water at just over two minutes, but are together and that could cause fireworks on the bike.
23:30: The differences are minimal, with almost all the big names following behind. The first nineteen men are within twenty seconds of each other.
22:43: In the end, it is Justus Nieschlag who comes out of the water first. He is immediately followed by Jorgen Gunderson, Marc Dubrick, Rico Boegen, Ben Kanute and Menno Koolhaas.
20:00: In the final meters of the swim, some differences do arise and a small group of men seem to be breaking away from the larger group. All led by Marc Dubrick.
19:00: The men are heading toward the swim-exit and then we can have a first serious look at the gaps.
15:00: It's a pretty physical swim. The men "fight" with each other for good positions and all try to be in the group.
12:00: No one manages to really swim away yet. But, they are pushing it. Marc Dubrick is leading at this point.
7:30: Both men are in the big group, so it seems that Long in particular is rising above himself at this point.
7:00: Sam Long is in the feet of Kristian Blummenfelt. That could mean two things: Long is having a particularly good swim today or Blummenfelt is having a particularly bad one.
3:00: At least, it is Ben Kanute, always one of the fastest swimmers and recognizable today by the green swim cap, who is in pursuit.
01:00: The field is immediately pulled apart. It is still unclear who is in the lead, what it is two athletes with white swim caps (that is, not a predetermined color) but it is going fast!
00:00: And we're off. The Ironman 70.3 World Championship!
-6:00: With six minutes left until the start, the professional athletes are coming to the water. It's about to begin!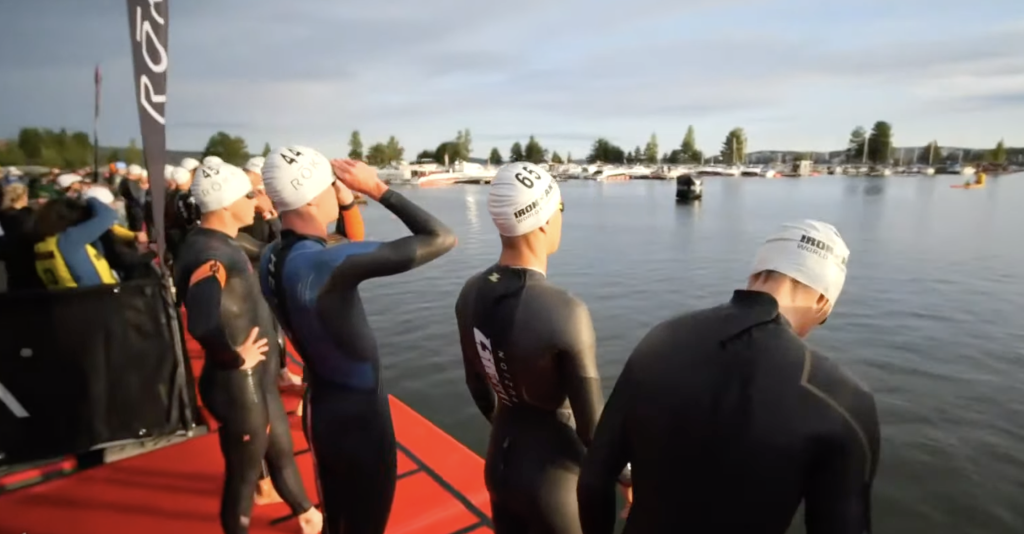 -18:00: A number of participants in last week's PTO Asian Open, including Kristian Blummenfelt and Jason West, have been quite ill over the past few days. Hopefully they have recovered enough to go all-in today.
-21:00: Let's have a look at today's participants: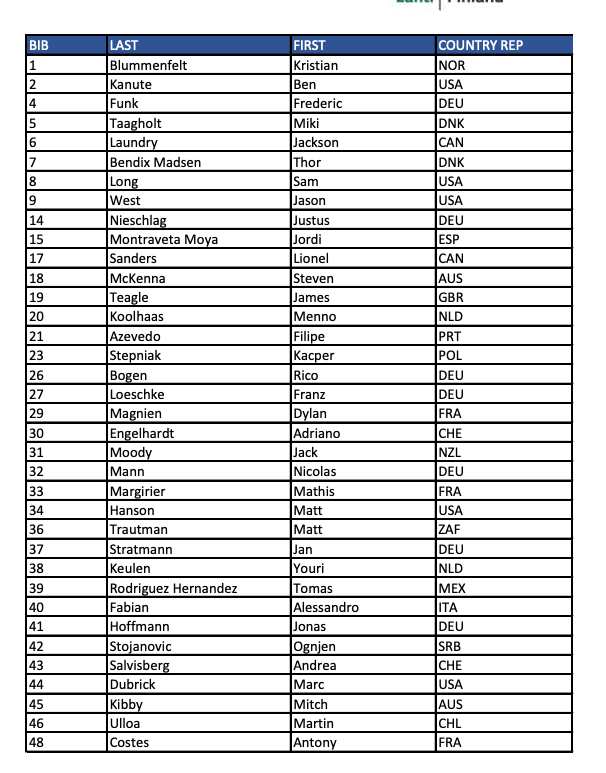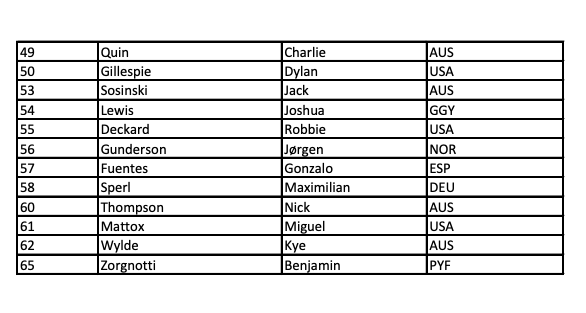 -23:00: After yesterday's drama, in which the live stream of the Ironman 70.3 World Championship (women's race) was down for nearly an hour, Ironman is choosing not to rebroadcast the race via Outside Watch but rather its own YouTube channel.
-26:00: This is today's swim course: athletes will swim from 'A to B' before they are allowed toward their bikes.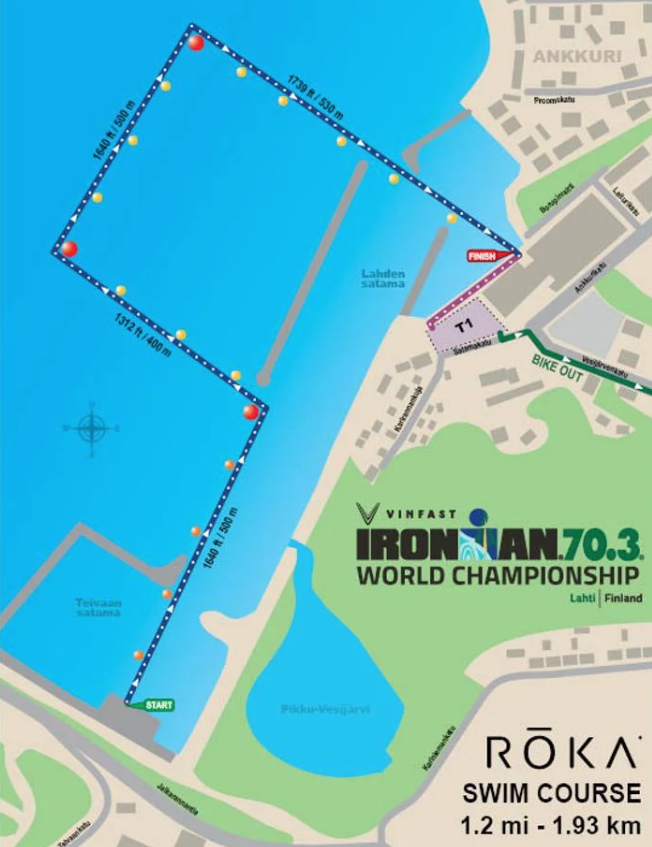 -28:00: Conditions look awesome. Unlike yesterday, the sun is shining. There does seem to be a bit more wind, although it is still negligible.
-30:00: With thirty minutes left until the start it is clear that today – just like yesterday with the women's race – there will be swimming with wetsuit. Water temperature: 18.9 degrees.