Although he wasn't considered the biggest favorite beforehand, Nicolas Mann just won Challenge St. Pölten. The German did so by force of circumstance; after taking the lead in the race during the bike leg and not letting it go, he proved far too strong for all the strong men behind him. It was his first Middle Distance victory as a pro athlete.
Fastest swimmer of the day – in a beautiful tight Austrian lake – was the also German Hannes Butters, who came out of the water after 21:55 and was already almost a minute ahead of big names like Bence Lehmann, Caleb Noble and Nils Frommhold. Mann followed in ninth place and was then almost two minutes behind.
On the bike, Mann's catch-up began as fast as ever. Initially, it was Frommhold and Butters who went off with the two of them and managed to create a gap, but well before the thirty kilometer mark, Mann – who was riding impressively strong – closed in and Butters had to let go. What followed was an interesting phase in which Mann and Frommhold rode together for a long time and managed to increase their lead on the rest of the field.
After sixty kilometers Mann showed once again that he really is the strongest rider, because during a tough climb he rode away from Frommhold. He didn't give his compatriot a chance to catch up anymore, because when Mann came back in T2, he had a 1:35 minute lead on Frommhold. At just under four minutes, a group with Georg Enzenberger, Lukas Hollaus, Joao Ferreira, Caleb Noble, Markus Thomschke and Giulio Molinari then followed.
Text continues below picture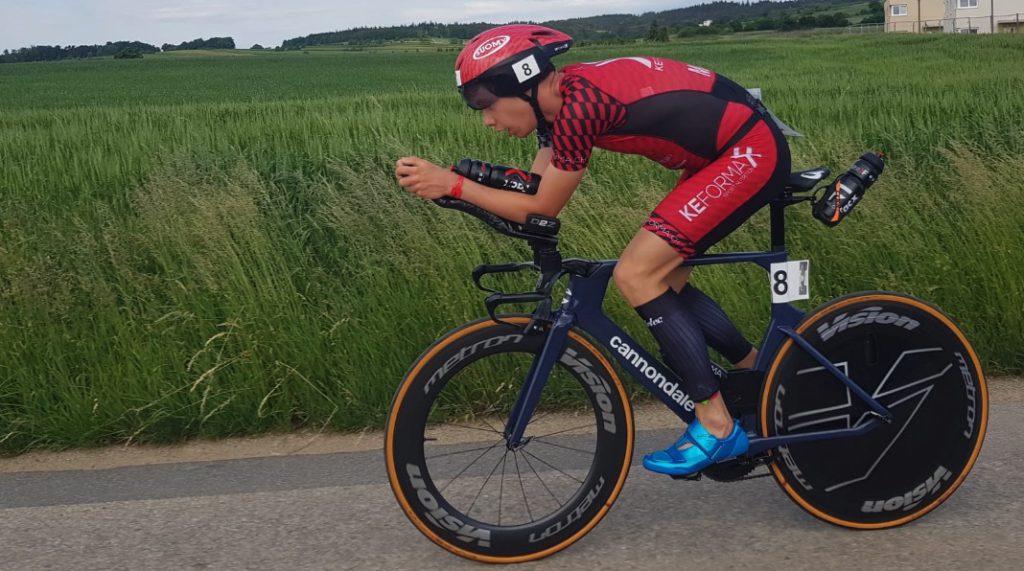 While Mann's lead was never in jeopardy anywhere during the run – he ran as strong as he cycled – Frommhold got incredibly tough. He quickly lost time on the chasing group and was overtaken about halfway by Noble and not much later Hollaus also passed, so Frommhold disappeared from podium position.
Mann continued his strong run effortlessly and ran impressively to victory in 3:45:17. Noble took the silver (+2:56) and the bronze was for Hollaus (+3:40).