In this article, you will find updates from the Ironman World Championship in St. George, from the moment athletes dive into the water until they cross the finish line. The event kicks off at 6:15 AM (MDT, local time). All updates throughout the race, you will find in this liveticker, so that you know which athletes are leading, which athletes are dealing with an offday, splits, background information, photos and just everything else that need to know.
Pay attention: the updates start on the bottom, so the most recent update you find on top. The time stamp that you see in front of the update, is the race time. The women started five minutes later than the man, so they will be five minutes behind in the updates.
Don't forget to refresh this article, to see the latest updates. Enjoy following the Ironman World Championship!
–
9:20:34 – Thank you for following the Ironman World Championship St. George via our liveticker. We hope you enjoyed the race!
9:14:35 – WOMEN'S TOP TEN FINISHERS
Daniela Ryf 8:34:59
Kat Matthews +8:50
Anne Haug +12:04
Skye Moench +20:21
Ruth Astle +25:10
Lisa Norden +28:32
Laura Siddall +33:35
Fenella Langridge +34:41
Gurutze Frades Larralde +38:35
Maja Stage-Nielsen +39:33
8:49:56 – Anne Haug: "It was ridiculously hard. Especially, the second part of the marathon was really digging deep. Well done to Daniela, she showed how world-class she is. Kat Matthews was amazing too… And I'm super happy with my third place."
8:48:30 – Kat Matthews: "I've never felt so bad going onto the run […] but I think I was eventually able to pace it perfectly."
8:47:03 – With (now) former Ironman World Champion Anne Haug the women's podium is complete!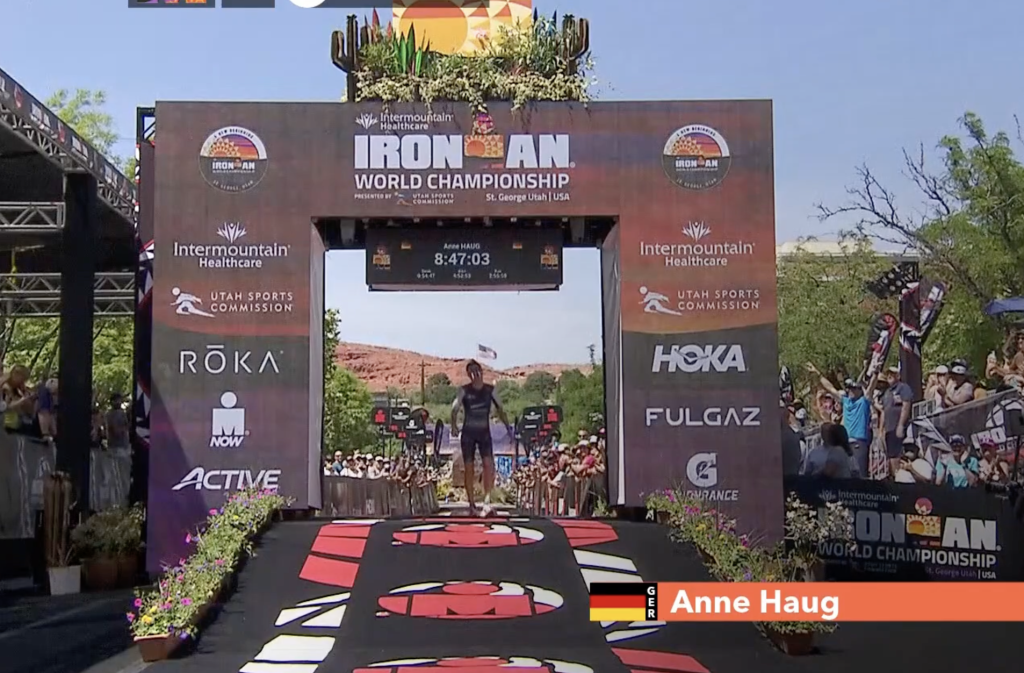 8:43:49 – Kat Matthews takes second! (8:43:49 hours)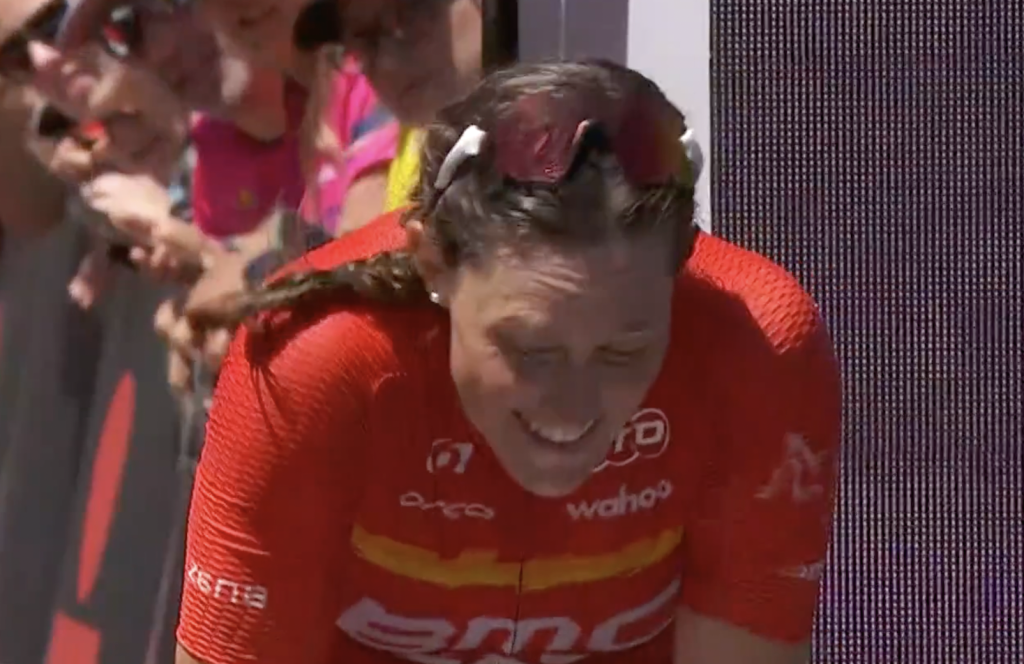 8:45:30 – Daniela Ryf: "I think it brings me luck if I'm not leading after the swim. On the bike, Kat was pushing hard, but I was really enjoying it. I even thought: if I'm not going to win, I will still have fun today."
8:43:59 – Your five-time Ironman World Champion: Daniela Ryf! (8:34:59)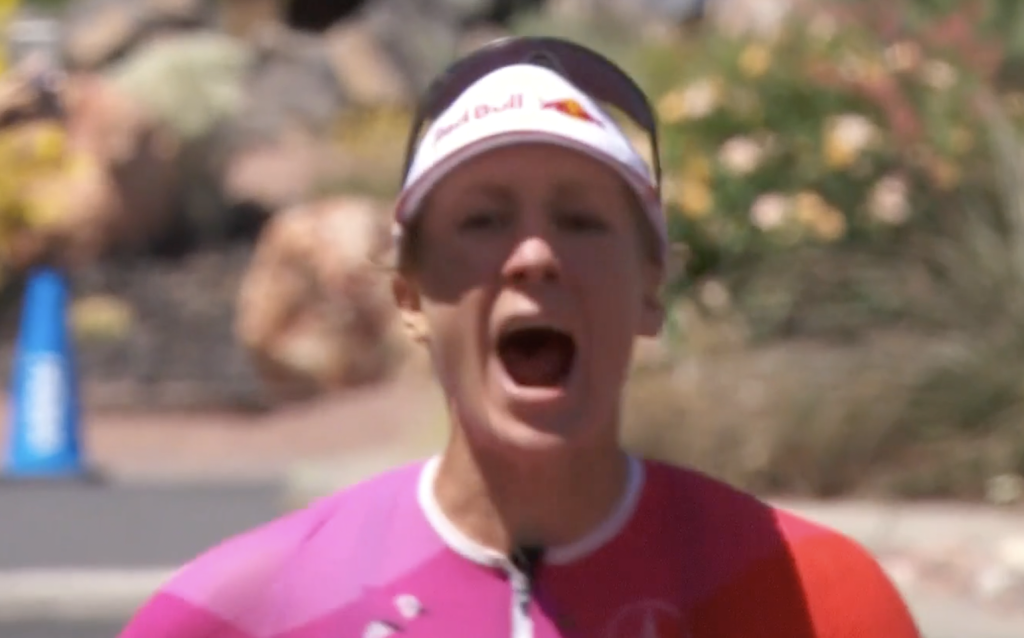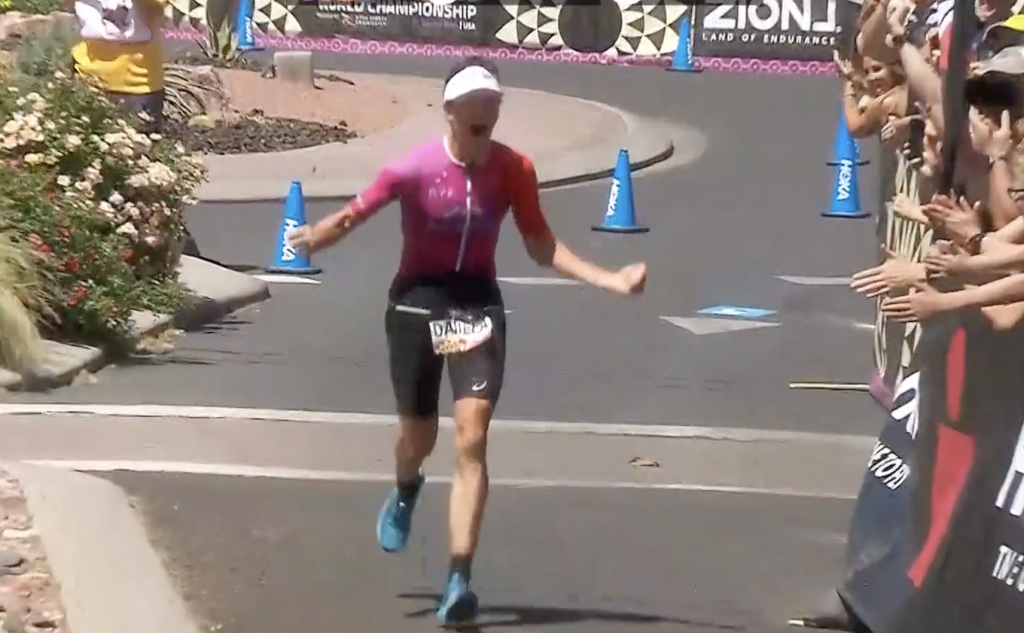 8:10:20 – Kristian Blummenfelt: "It's awesome. I mean, that was a tough day. Like a brutal course… It was tough to get going on the swim. The bike was tough too, I jump on the train of Cameron Wurf, but it was hard up the hills. It was brutal and then the last…", he can't even complete his sentence about the marathon. "Luckily it was downhill the last five kilometers, but still… It was a tough race."
8:07:17 – MEN TOP TEN FINISHERS
1.Kristian Blummenfelt 7:49:16
2.Lionel Sanders +4:46
3.Braden Currie +5:03
4.Chris Leiferman +8:34
5.Florian Angert +10:19
6.Leon Chevalier +12:25
7.Daniel Baekkegard +12:49
8.Sam Laidlow +13:40
9.David McNamee +15:20
10.Ben Hoffman +17:22
7:56:47 – While Kristian Blummenfelt celebrates his win – although he doesn't seem to be feeling great, as he was unable to do an interview right after the finish – Daniela Ryf is still working hard to maintain her lead. Ryf has an advantage bigger than 10 minutes to second (Kat Matthews) and with twelve kilometers to go, all Ryf has to do is stay calm and continue what she started.
7:55:59 – MEN TOP THREE FINISHERS
1. Norway's Kristian Blummenfelt 7:49:16 hours
2. Canada's Lionel Sanders +4:46
3. New Zealand's Braden Currie +5:03
7:54:10 – Impressive! Lionel Sanders smelled blood and that was no good news for Braden Currie. Just before the finish line, Sanders pushed himself to a second place. That means It's Lionel Sanders who won silver at the Ironman World Championship St. George (+4:46 minutes behind Blummenfelt). Currie completed the podium by taking third (+5:03).
Sanders emotional after the finish: "This was the craziest race. I will never forget this."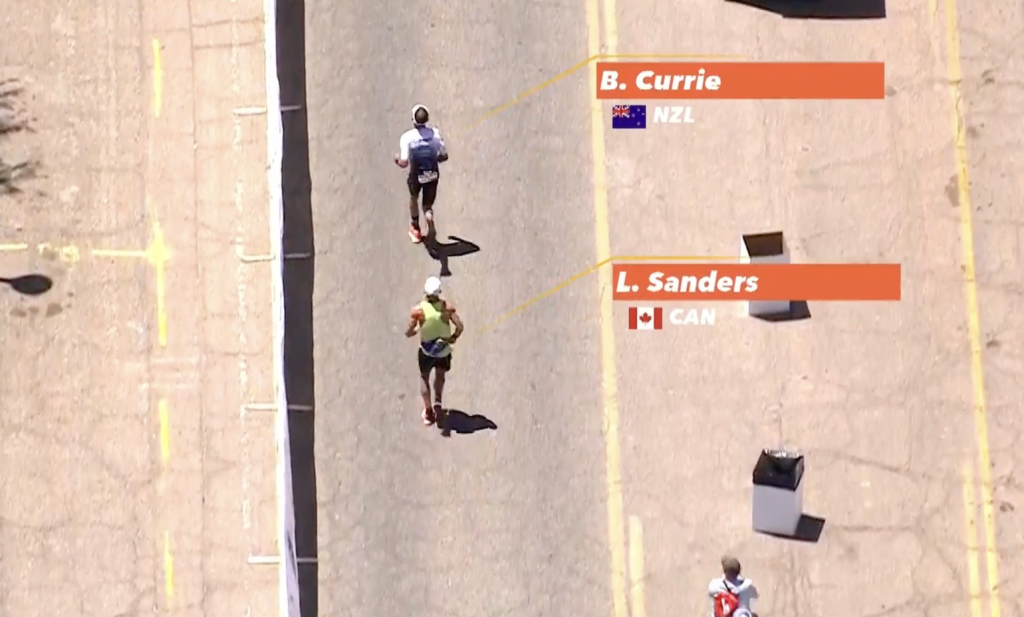 7:50:38 – Kristian Blummenfelt is your new Ironman World Champion! 7:49:16 hours is his finish time. A 49:40-minute swim, a 4:18:43 hour bike ride and a 2:38:01 hour marathon.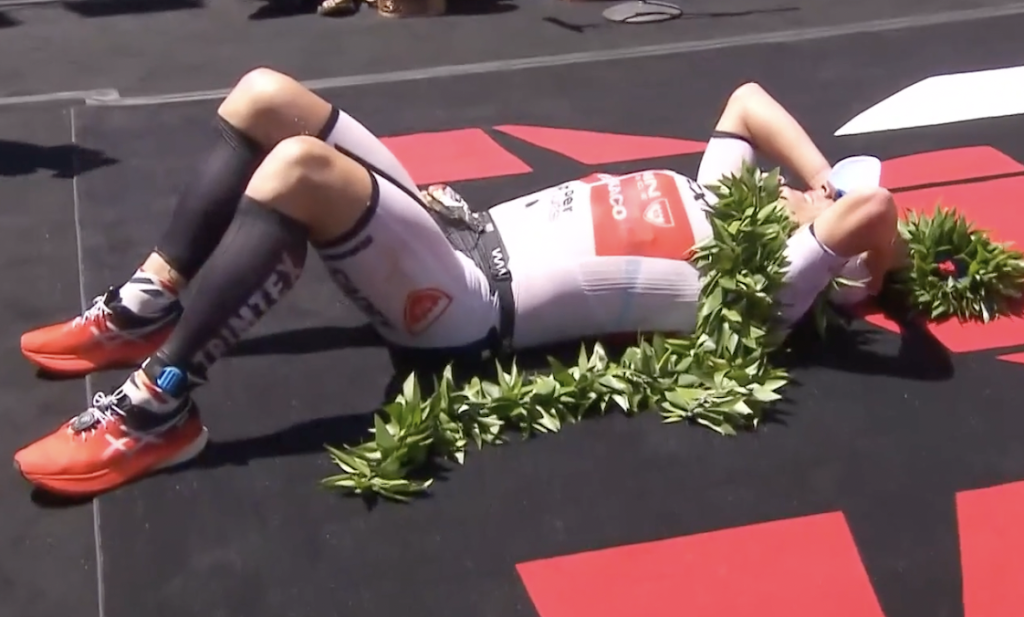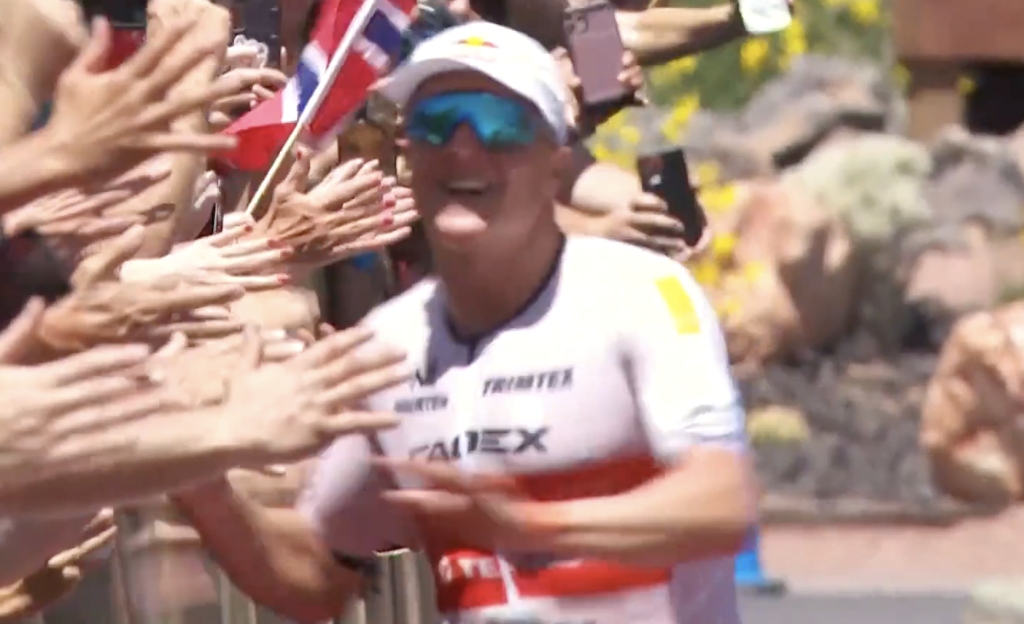 7:41:20 – A great battle for second place! Braden Currie regularly looks over his shoulders to watch how fast Lionel Sanders approaches, but with approximately three kilometers to go and a one-minute gap, on paper it seems like Currie should be safe.
7:37:51 – Just two miles to go for Kristian Blummenfelt! Blummenfelt is clearly starting to struggle a bit with the hills, watching his watch regularly, but he can nearly see the finish line.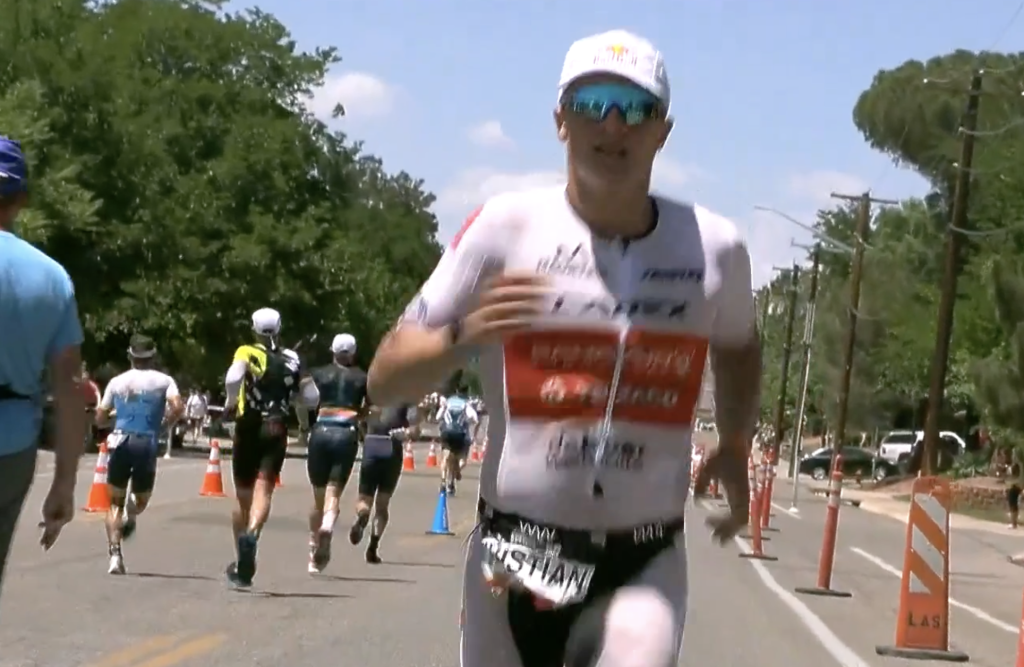 7:29:21 – Lionel Sanders is burning to get to second place. The Canadian athlete is currently nearly matching Kristian Blummenfelt's pace. There's still two-and-a-half minutes between him and Braden Currie, though. It will be tight, but we've seen Sanders catching up with competitors in the final stretch many times before.
7:15:12 – Anne Haug is just 2:35 minutes behind Kat Matthews. She can smell a silver medal and with a half-marathon to go, and Haug running approximately 15 seconds faster per kilometer, she stands a very good chance to catch up with Matthews and therefor move into second.
7:13:17 – In twenty minutes time, Kristian Blummenfelt has created a lead of 1:23 minute to Braden Currie, who's still in second. With Lionel Sanders running in third place, Currie is not safe in second place either.
6:57:30 – Daniela Ryf is enjoying a big lead. With an advantage of nearly ten minutes to Kat Matthews, nobody seems to be able to get in the way of the Swiss and her fifth Ironman world championship title. Anne Haug is 12:38 minutes behind the race leader at the 15 km point.
6:56:57 – 12 kilometers to go and Kristian Blummenfelt is currently running in the right spot to grab the gold. Will Blummenfelt be our 2021 Ironman world champion? It definitely seems like he can add another big win to his palmares.
Kristian Blummenfelt running past Braden Currie: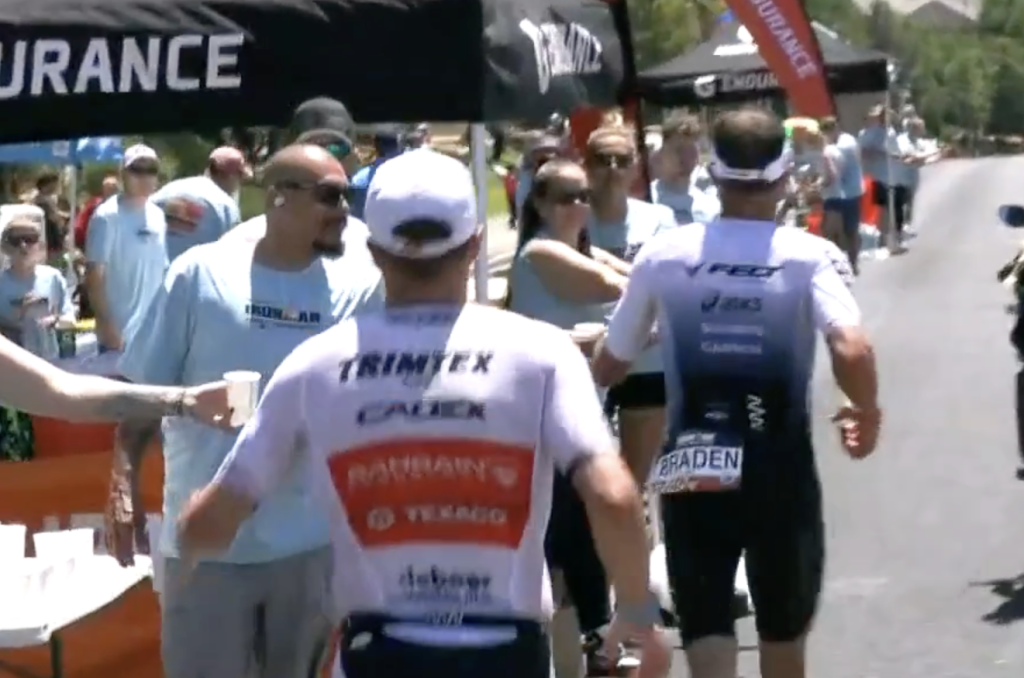 6:54:28 – Lionel Sanders just ran into third place, as he passed Sam Laidlow.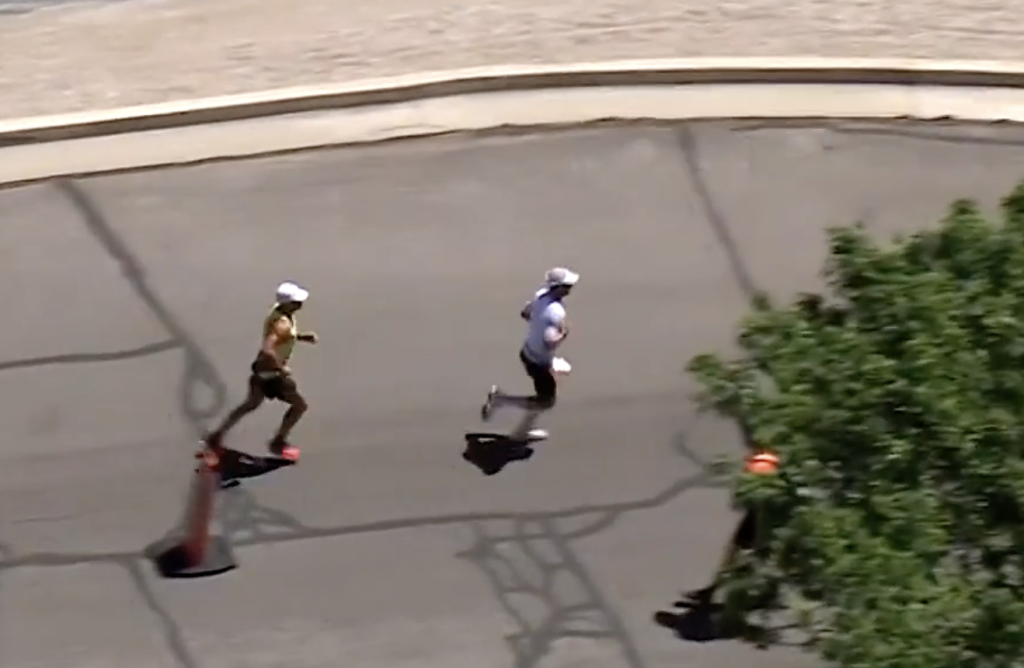 6:50:38 – Lionel Sanders is doing it again: moving up many spots on the marathon. He's currently running in fourth place (+4:33).
6:36:10 – At the 23 km mark, Kristian Blummenfelt is only 1:52 minutes behind Braden Currie. The battle for the title of Ironman world champion is on between these two athletes!
6:29:23 – Even though Haug runs a strong marathon so far, the gap to Daniela Ryf will likely be too big to bridge. However, second and third place are still within "reach" for the German athlete.
6:19:03 – He was patient for most of the race – or so it seemed – but the beast in Kristian Blummenfelt has just been released. The Norwegian athlete moved up to second place, as he just overtook Florian Angert and Sam Laidlow. Blummenfelt has his eyes et on the highest prize, so there's no relaxing for Braden Currie. Blummenfelt is only three minutes behind.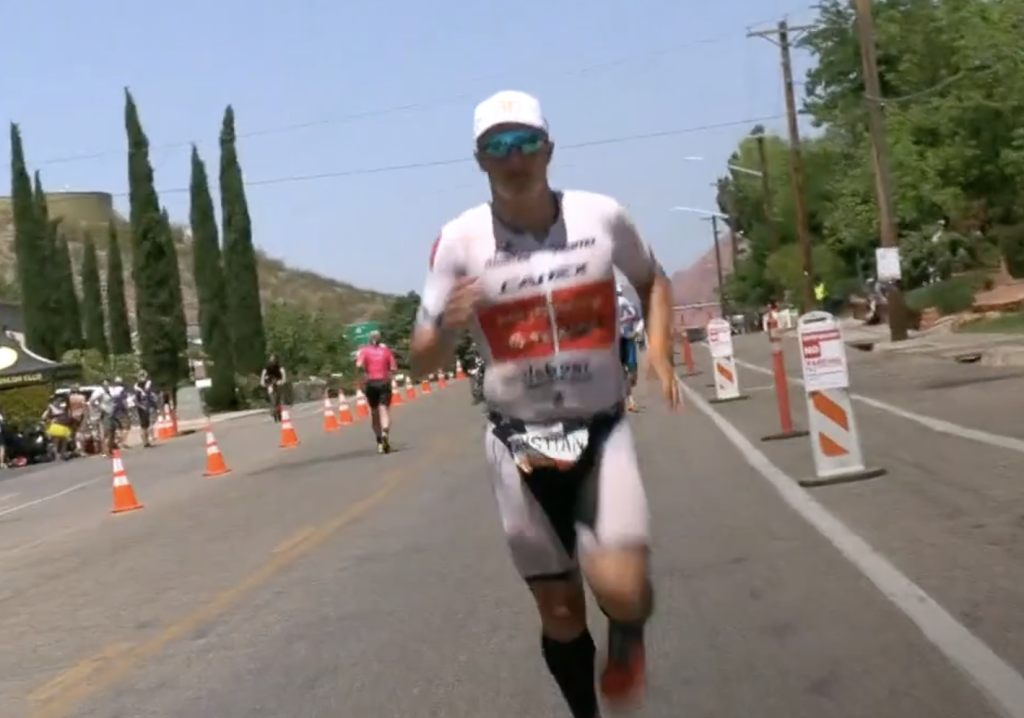 6:10:41 – Daniela Ryf extends her advantage to Kat Matthews and Lisa Norden. Anne Haug, on the other hand, is moving fast. In four km, the reigning Ironman world champion already closed a minute to Ryf.
6:13:22 – Meanwhile, Blummenfelt shrunk his gap to the front to 3:39 minutes at the 15K mark. He has already moved up to fourth place. Daniel Baekkegard and Kyle Smith – now in fifth and sixth – were both overtaken by Norwegian.
6:11:34 – Braden Currie runs very strong in front. Will our next Ironman World Champion be from New Zealand? Athletes still have another 25K to go, but so far Currie seems to be untouchable.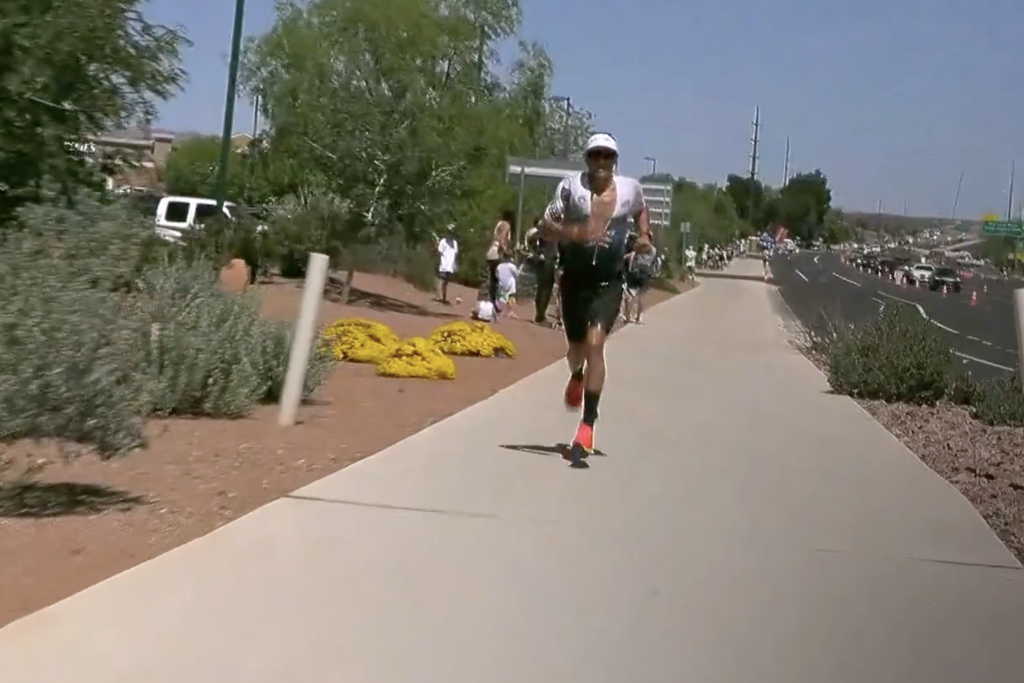 6:03:56 – Sam Long started off with a strong pace, but now drops back. He already dropped to ninth place, but looking at his much slower speed, there will be more athletes who catch him later. Long lost 1:30 minute to Braden Currie in only six kilometers.
5:59:58 – While Kyle Smith seems to have burned a few too many matches early in the run, Kristian Blummenfelt found a good rhythm. The Norwegian picked up his pace, and although he's still 4:11 minutes behind Braden Currie (after 11 km) he's slowly closing the gap.
5:51:57 – With Anne Haug being 15:41 minutes behind Daniela Ryf you would think she would barely stand a chance to win, but Haug has proven before to be able to do the impossible, so we keep her on our radar. Haug ran to fourth place as she got off the bike, overtaking Skye Moench.
5:50:09 – Daniela Ryf looks strong during the first kilometers of the marathon.
5:46:38 – WOMEN TOP THREE BIKE SPLITS
Daniela Ryf (bike 4:37:47)
Kat Matthews (bike 4:44:41) +7:07
Lisa Norden (bike 4:49:23) +9:32
5:42:40 – Sam Long is currently the fastest runner in the men's field. He's running in 8th place, 5:10 minutes behind Braden Currie, who still leads. Currie is the only person who nearly matches Long's pace, though.
5:35:11 – Noting a bike time of 4:37:47 hour, Daniela Ryf is first into T2. She enjoys a gap of around 7 minutes to Kat Matthews, who's in second place.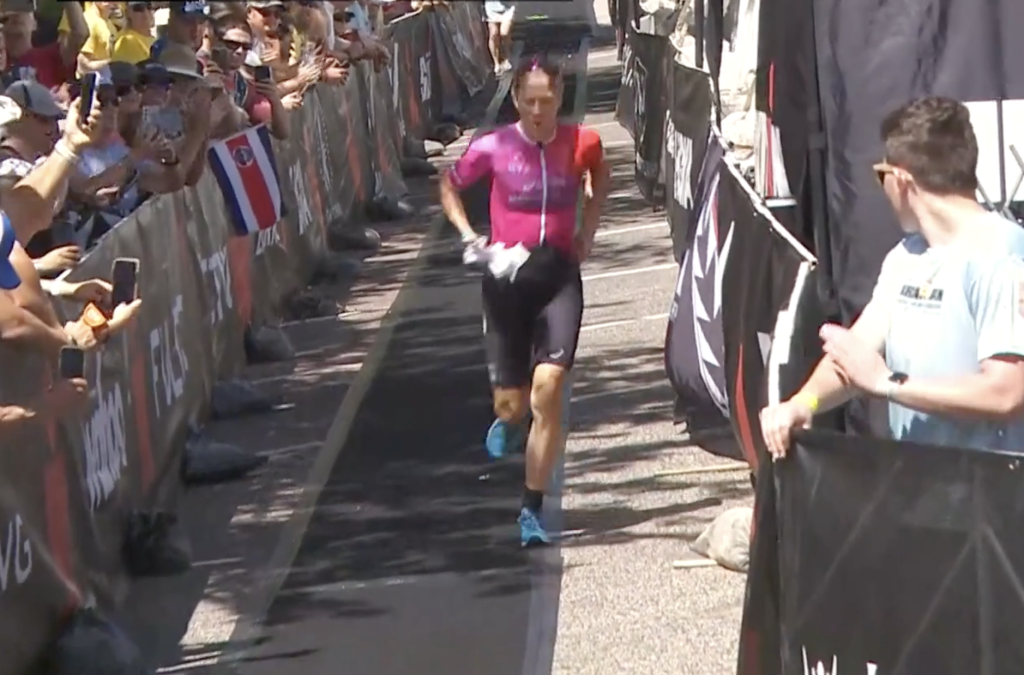 5:25:31 – While the men are conquering the run, Daniela Ryf gives the last push on the bike. About 7 km left, before Swiss gets to switch her bike for run shoes.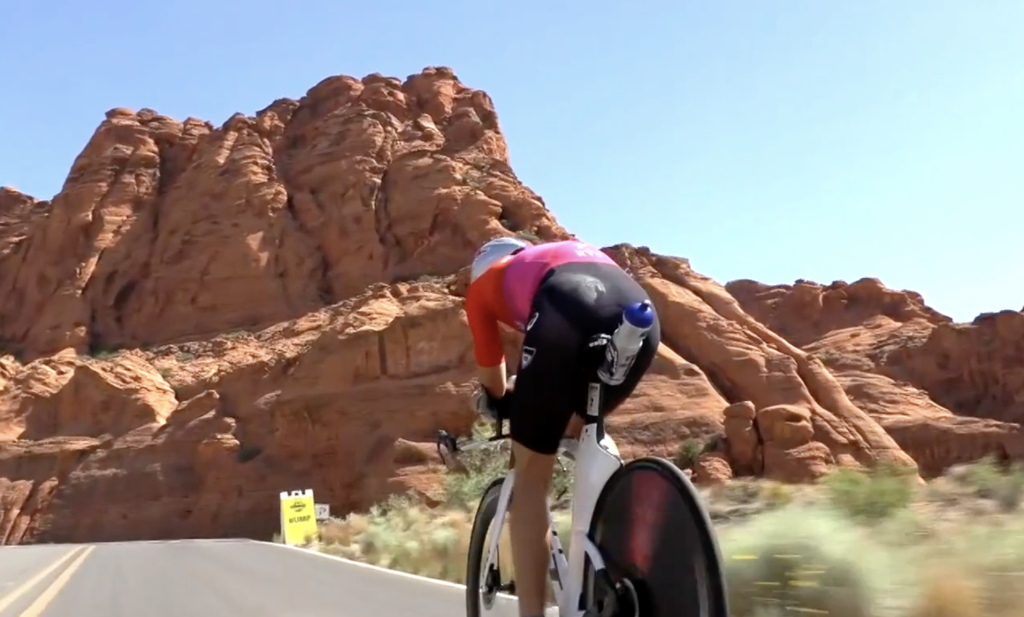 5:29:33 – Braden Currie made the pass. As Kyle Smith moves down to second, Braden Currie settles in first place.
5:28:34 – Braden Currie breathing down Kyle Smith's (leader) neck.
5:26:41 – Kyle Smith has to deal with a fellow Kiwi that has his eyes set on gold: Braden Currie. Currie shrunk the gap to 17 seconds 4 km into the marathon.
5:23:06 – Lionel Sanders and Kristian Blummenfelt are struggling with the pace set by Kyle Smith. Both athletes lose time in the first few kilometers. Whereas, Blummenfelt lost 15 seconds, Sanders saw Smith widen the gap with + 1 minute.
5:16:36 – Kyle Smith takes off straight away. After 2.7 km the Kiwi is in the lead, followed by fellow Kiwi Braden Currie (+0:24), Florian Angert (+0:35), Daniel Baekkegard (+0:59) and Sam Laidlow (+1:00).
5:00:53 – PRO MEN BIKE SPLITS
Kyle Smith 4:16:21
Sam Laidlown 4:15:59
Florian Angert 4:16:15
Braden Currie 4:16:31
Daniel Baekkegard 4:16:42
Cameron Wurf 4:15:44 * Fastest bike time
Lionel Sanders 4:16:15
Kristian Blummenfelt 4:18:43
Sam Long 4:18:18
Chris Leiferman 4:18:35
5:09:51 – The group of favorites is in T2 too. Cameron Wurf, Lionel Sanders and Kristian Blummenfelt are ready to run! They are 4:20 minutes behind the leaders. Sam Long lost a bit of time before T2 and racked his bike in 9th place (+6:16).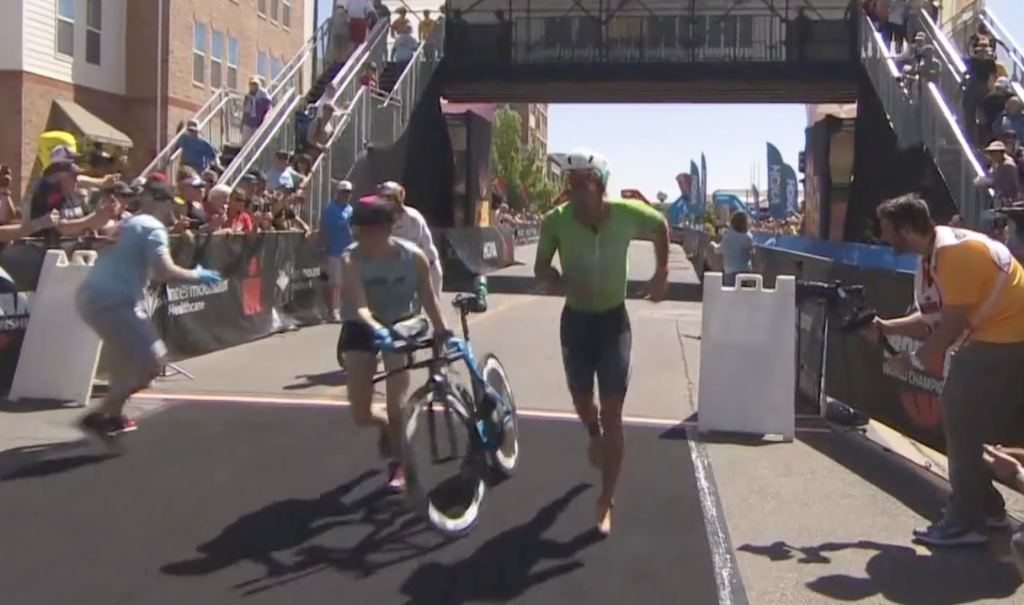 5:06:02 – The first five pro men are out onto the run course! Florian Angert, Kyle Smith, Daniel Baekkegard, Braden Currie and Sam Laidlow.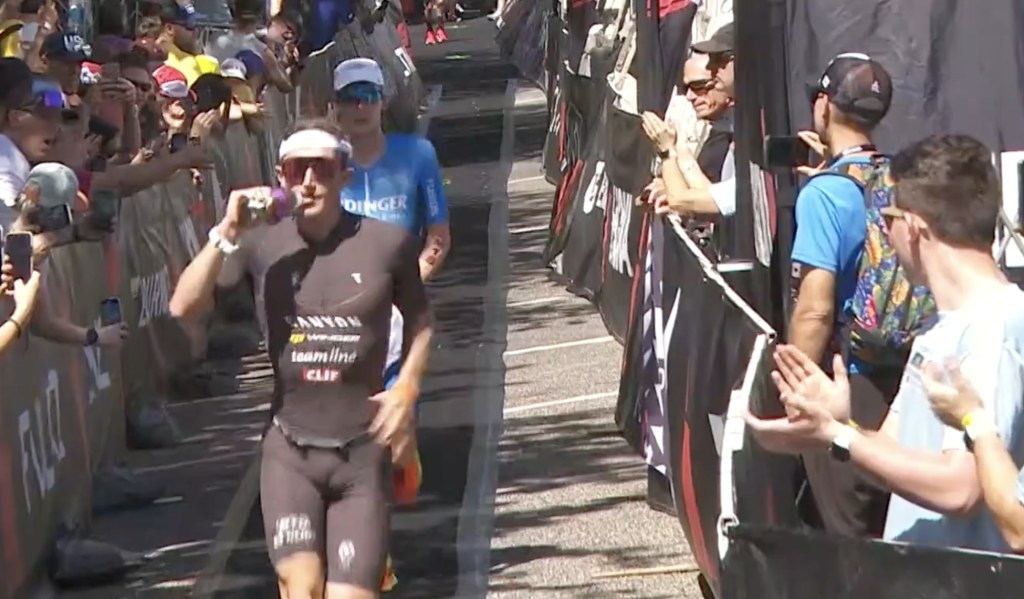 5:02:20 – Just like Daniela Ryf, Lionel Sanders is only getting warmed up and left his biggest push for the final part of the bike course. Sanders is only 4:20 minutes behind the leading men.
4:56:12 – We are counting down the kilometers until T2. Only about 10K to go before we get to see who still has the freshest legs to run a strong marathon.
4:32:41 – Daniela Ryf is – so far – proving everyone wrong, as she storms across the bike course, pulling off an amazing second part of the bike. Head down and legs working hard!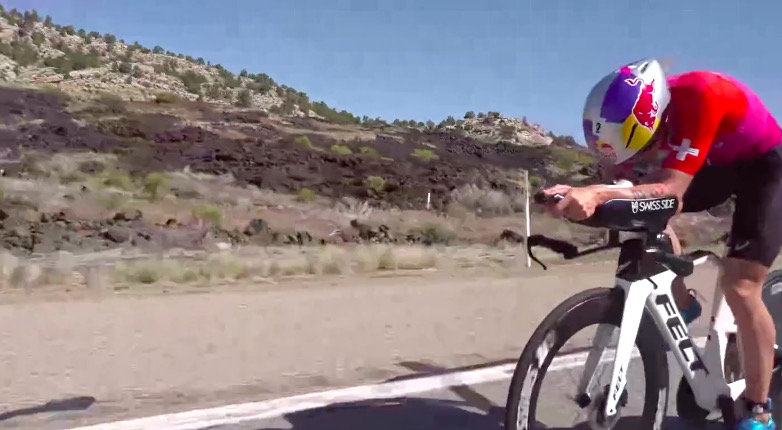 4:14:50 – Daniela Ryf is putting the hammer down, trying to create a useful advantage to Kat Matthews before going onto the run. After the climb up Snow Canyon, Ryf's advantage is 2:33 minutes. Lisa Norden is in third, 6 minutes behind Ryf.
3:58:14 – MEN'S BIKE SPLITS 125K
Braden Currie 3:47:56
Kyle Smith +0:01
Florian Angert +0:04
Sam Laidlow +0:06
Daniel Baekkegard +0:08
Cameron Wurf +4:49
Kristian Hogenhaug +4:51
Kristian Blummenfelt +4:54
Leon Chevalier +5:31
Lionel Sanders +6:00
Sam Long +6:44
Sebastian Kienle +6:44
Chris Leiferman +6:47
Pieter Heemeryck +7:01
Matt Trautman +8:29

3:56:28 – The second bike pack has fallen apart a bit on the climb. Cameron Wurf, Kristian Hogenhaug and Kristian Blummenfelt have created a little gap to some other athletes that were in that group. Lionel Sanders and Sam Long, on the other hand, respectively lost another 1-1:30 minute to the front. There were other athletes that dropped back even further, though.
3:42:46 – More than 100 kilometers in your legs and then having to ride up this brutal climb. The first five athletes just reached the top. It was Braden Currie who was leading them up. It will be interesting to see if pro cyclist Cameron Wurf can work some of this five-minute deficit away on this tough part.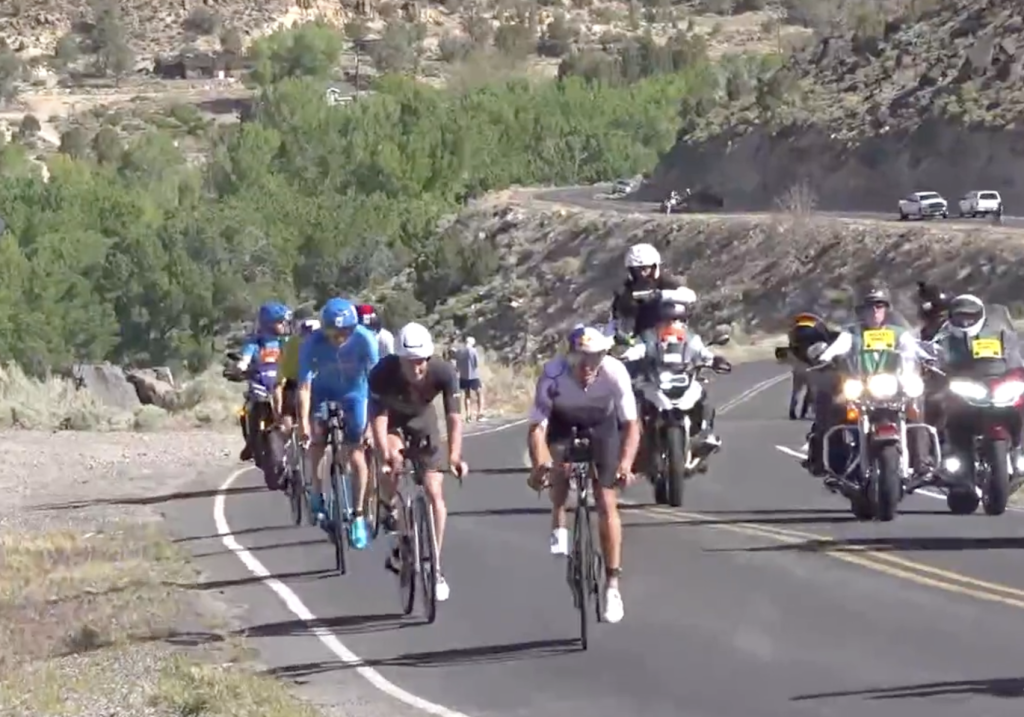 3:32:30 – A little hiccup for Florian Angert – riding among the first five men – he just missed a drinking bottle when he drove past an aid station.
3:26:01 – WOMEN'S BIKE SPLITS 100K
1.Daniela Ryf
2.Kat Matthews +00:48
3.Lisa Norden +2:45
4.Skye Moench +2:59
5. Fenella Langridge +6:33
6.Anne Haug +6:39
7.Jocelyn McCauley +6:40
3:22:33 – The men might be over 100K into this race, the toughest part is yet to come: a climb up Snow Canyon. We might see some changes in race dynamics when we get into the hills.
3:14:20 – Anne Haug might be an incredible runner, there's much work for her to do if she wants to proclaim her world title. The Germany athlete is already six minutes behind Ryf. Meanwhile, Ryf seems to try and create a buffer to Matthew – a strong runner too – to save herself some time on the marathon.
3:02:26 – Daniela Ryf is on the roll. She just rode away from Kat Matthews and seems hungry for another win. She even passed one of the pro men.
3:01:38 – The second big group of men is losing time to the first five men. 100K into the race, their deficit is five minutes.
2:53:34 – Andreas Dreitz would have crashed with the bike. It's unknown whether the Challenge Roth winner is able to continue his race.
2:30:23 – Daniela Ryf is having a great day so far, enjoying a good position in the front group. Can the Swiss athlete, after quite some struggles, claim her fifth Ironman World Championship title?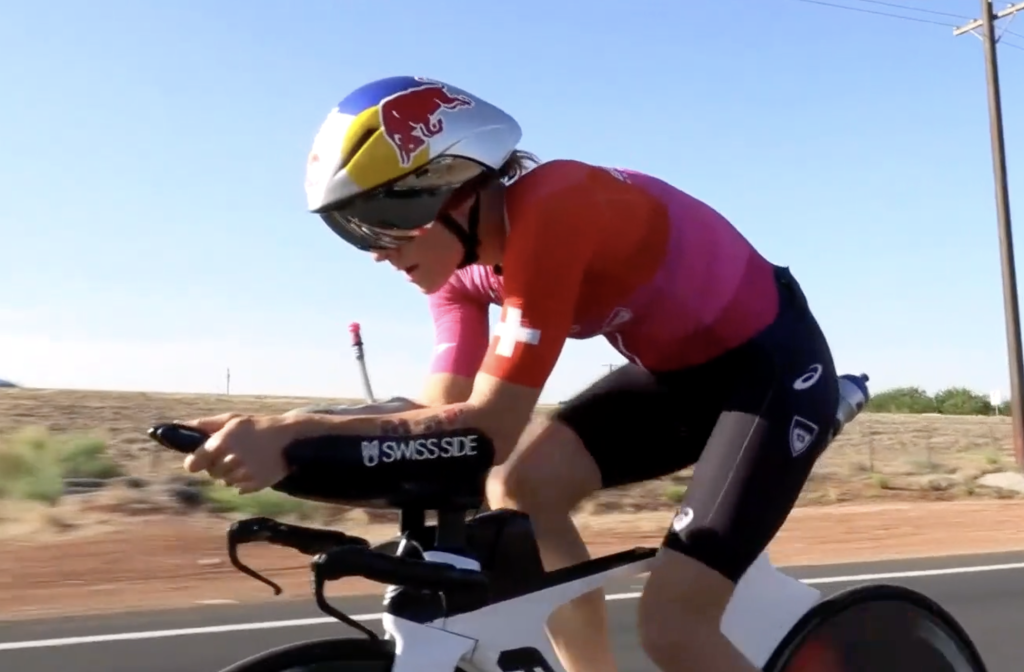 2:33:21 – Behind the leading group of men is a group of nine athletes, with Cameron Wurf, Leon Chevalier, Andreas Dreitz, Kristian Hogenhaug, Matt Trautman, Pieter Heemeryck, Sam Long, Andy Potts and Max Neumann. Blummenfelt, who's still in no man's land, seems to wait to join that group. The group was 4 minutes behind after 60 km.
2:28:08 – The men who are not among the front group of five, struggle to get these athletes – still Kyle Smith, Florian Angert, Sam Laidlow, Daniel Baekkegard and Braden Currie – back into sight. Even Cameron Wurf, who moved up many places, has barely closed in. That means the first five men are working together very well. Funny thing is that none of the absolute race favorites – Lionel Sanders, Sam Long and Kristian Blummenfelt – are with them.
2:19:33 – So far, reigning Ironman world champion Anne Haug hasn't been having the best day. The German athlete is still in eight place, 3:37 minutes behind the front. If there's one athlete who can set things straight with an incredible run part, it is Haug though.
2:15:26 – Kristian Blummenfelt is losing time to the leading group. In 20 km he lost another minute. Blummenfelt is still all alone and in sixth place (+3:21).
2:10:18 – Thanks to an amazing hunt on the bike, Kat Matthews has reached the front. The British athlete has formed a group with Ryf, Norden and Skye Moench. With a group taking shape in the women's race, it promises to turn into an exciting battle.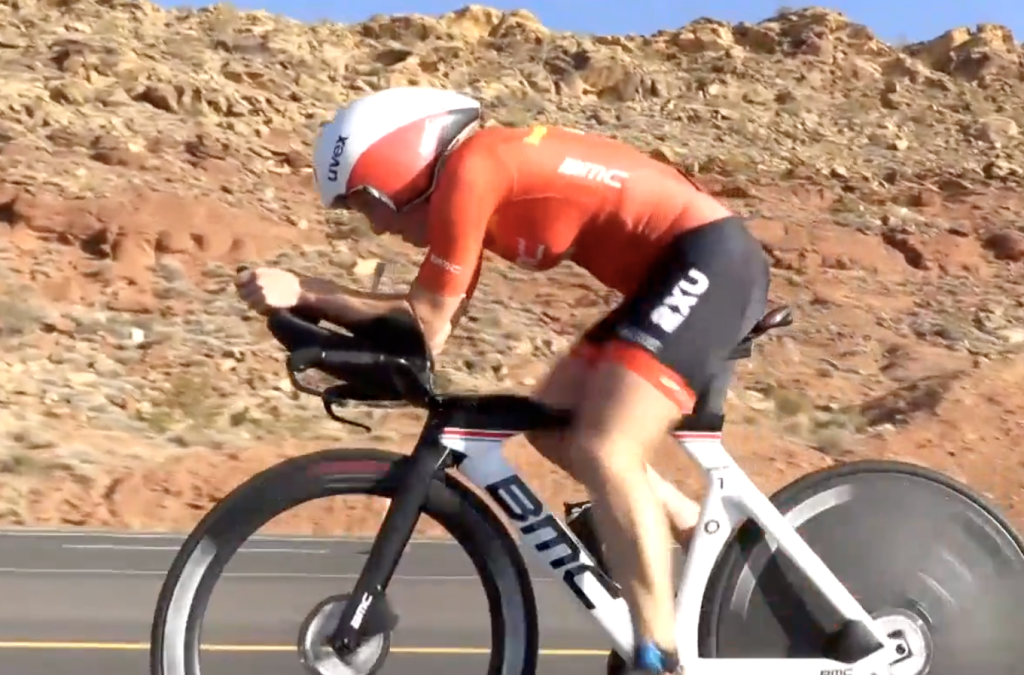 2:07:19 – Daniela Ryf joined Lisa Norden 40 km into the bike part.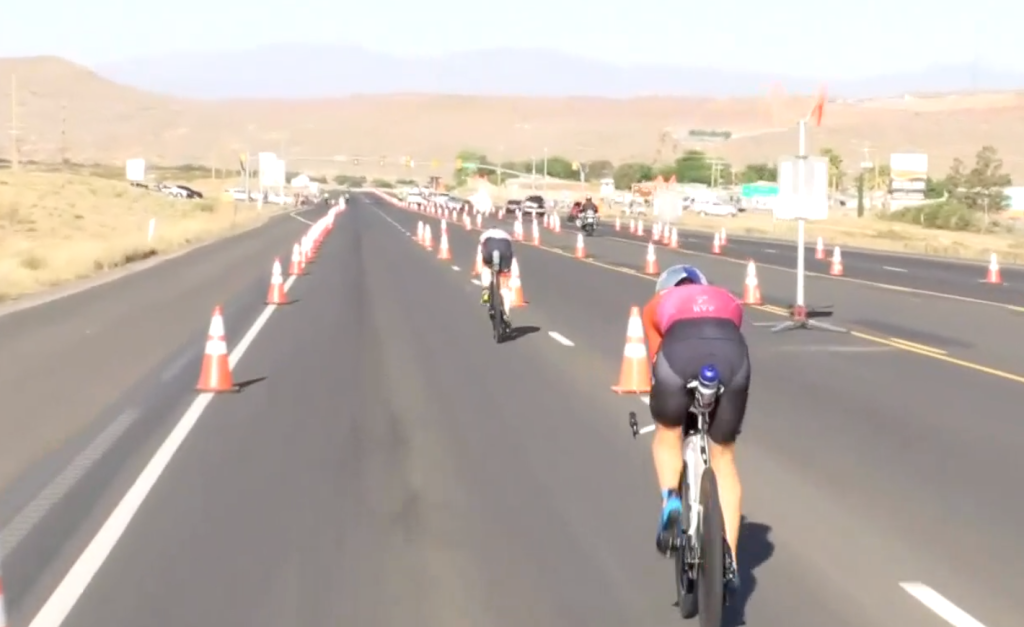 1:59:07 – Kristian Blummenfelt found himself in no-man's land on the bike. The Olympic champion is currently stuck behind the group of five athletes in front.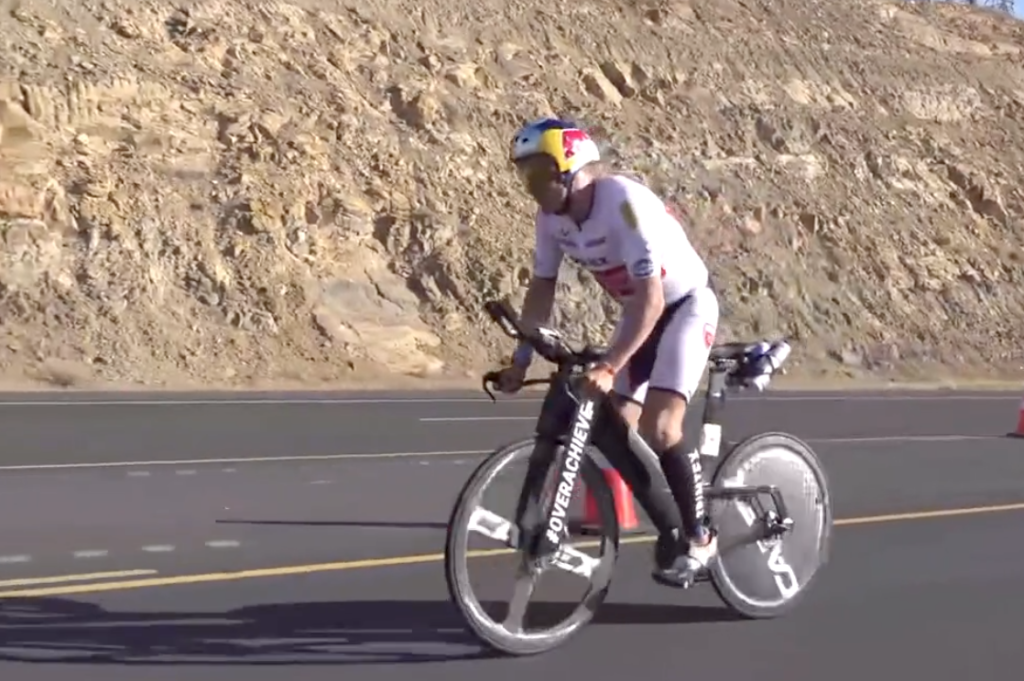 1:53:26 – Sam Long hitting the gas and taking turns with Cameron Wurf to try to get back to the group of five in front. Lionel Sanders was with them too, but on the climb he dropped off.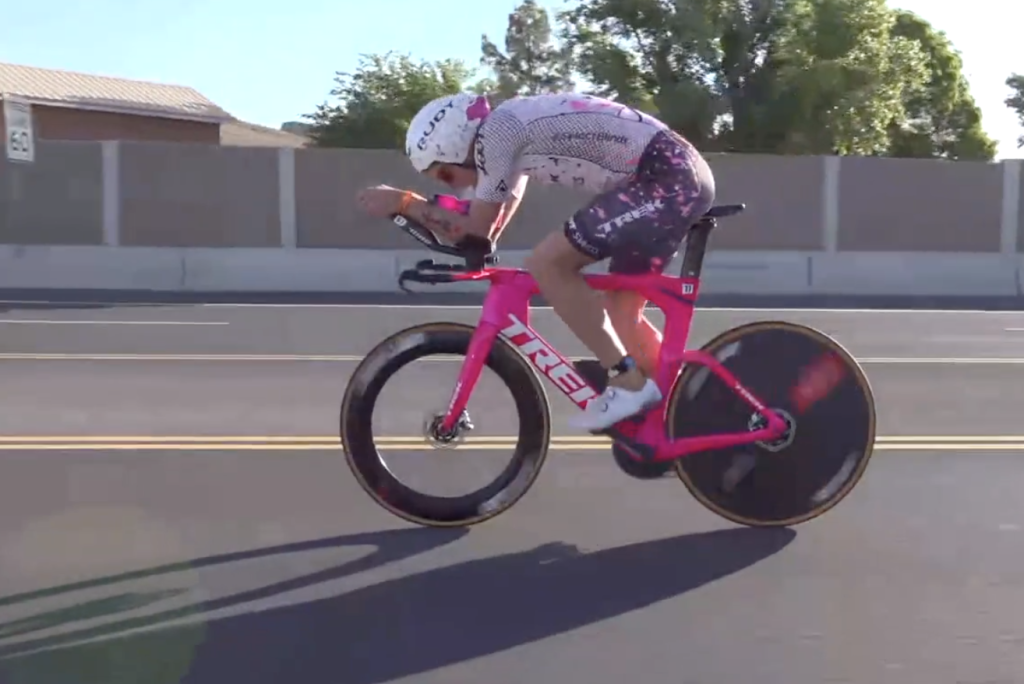 1:51:43 – Lionel Sanders and Sam Long have moved up too. Sanders rides on a 21st place (he came out of the water in 29th position) and Long currently sits in 14th place, right behind Wurf (Long exited the water in 27th place).
1:49:46 – A big mover in the men's race is Cameron Wurf, who flew past 18 athletes on the bike. Wurf is currently in 12th place, 4:36 minutes behind the lead group. That's about one minute less, than he was after the swim part.
1:48:07 – The men's group of five works together well, as they extended their lead to – among others – Kristian Blummenfelt with approximately 15 seconds.
1:40:28 – Lisa Norden took over the lead in the women's race. Sweden's star cyclist and Olympic silver medalist looks strong.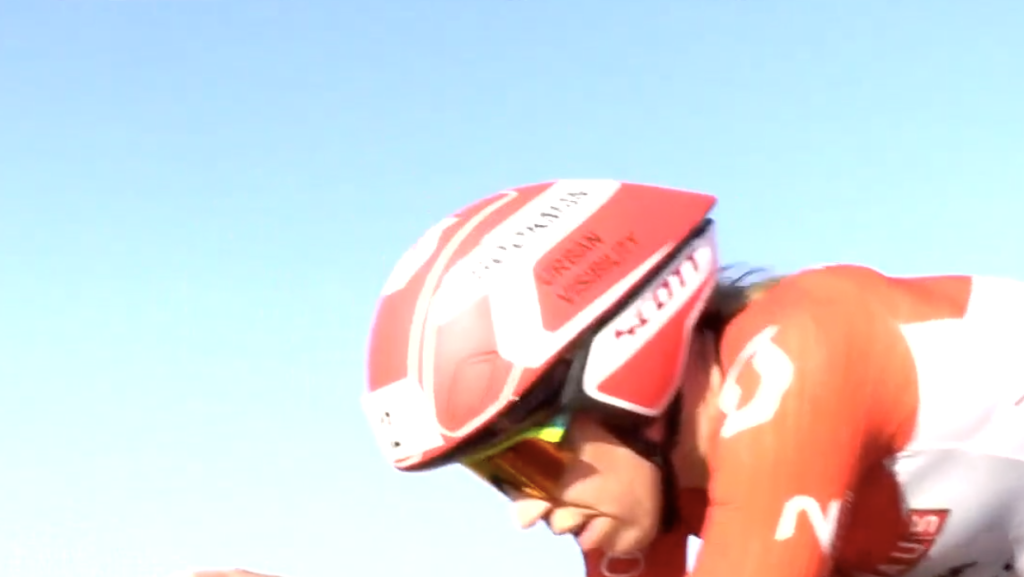 1:39:48 – Unfortunately, the Ironman Now livestream is currently offline.
1:21:36 – Daniela Ryf is cycling in fourth place, 2:13 minutes down to the leader, but massively pushing the pace. Just like Kat Matthews, who's only 2:22 minutes behind Haley Chura. In just one month time, Matthews will try to go Sub-8 on the Long Distance. Today will be a great test to see how she's feeling with this historic attempt coming up.
1:16:40 – Haley Chura was by far the strongest athlete in the water, but how long can she stay in front on the bike? Lisa Norden already made up more than a minute in the first 15 km (+0:54).
1:12:04 – After approximately 20 km, there's a group of five men leading the bike part, among them Sam Laidlow, Florian Angert, Braden Currie, Kyle Smith and Daniel Baekkegard.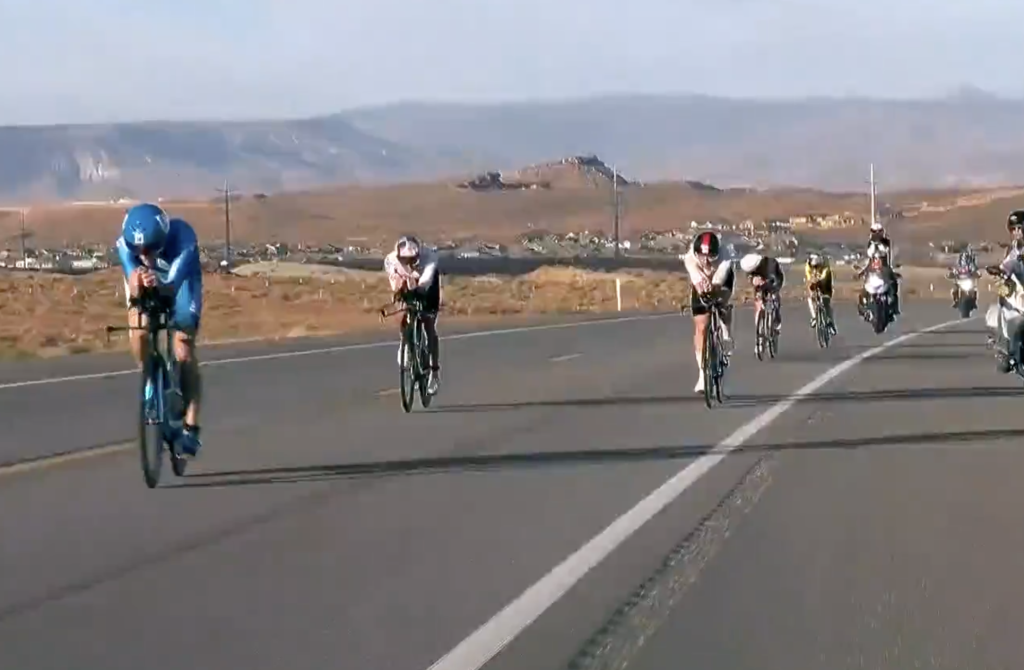 1:08:06 – We see three uber bikers in the back trying to make their way forward: Sam Long, Lionel Sanders and Cameron Wurf.
58:07 – PRO WOMEN SWIM SPLITS
Haley Chura 50:29
Fenella Langrigde (+1:56)
Lisa Norden (+2:10)
Daniela Ryf (+4:13)
Skye Moench (+4:14)
Jocelyn McCauley (+4:16)
Anne Haug (+4:17)
Rachel McBridge (+4:17)
Kat Matthews (+4:18)
Maja Stage-Nielsen (+4:20)
56:46 – Fenella Langridge struggles in T1 and loses time, as she can't get her wetsuit off.
52:07 – Haley Chura has a big lead to her chasers and is – by far – first out of the water. She noted a swim time of 50:29 minutes and was so far ahead of the other women, that she was on the bike before they were even out of the water.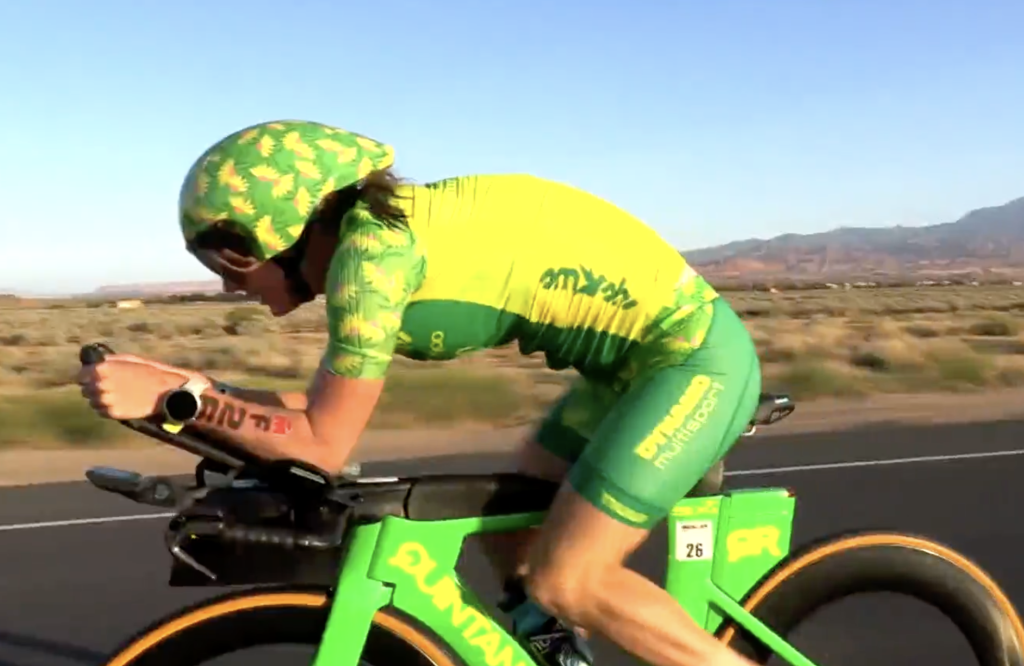 52:26 – Some of the favorites that we miss in the top ten below are Pieter Heemeryck (12th, +2:16), Kristian Hogenhaug (13th, +2:20), Patrik Nilsson (14th, +4:15), Ben Hoffman (17th, +4:19), Sam Long (27th, +4:36), Lionel Sanders (29th, +4:37) and Cameron Wurf (31st, +5:09).

47:29 – MEN SWIM SPLITS
1. Sam Laidlow 47:29
Daniel Baekkegard +0:01
Kyle Smith +0:06
Braden Currie +0:08
Florian Angert +0:11
Denis Chevrot +0:20
David McNamee +0:45
Max Neumann +1:00
Andy Potts +2:10
Kristian Blummenfelt +2:10

47:29 – Sam Laidlow and Daniel Baekkegard are first out of the water.
44:21 – Lionel Sanders: "This will be the first time that I'm racing the Ironman World Championship as a well-trained and experienced athlete."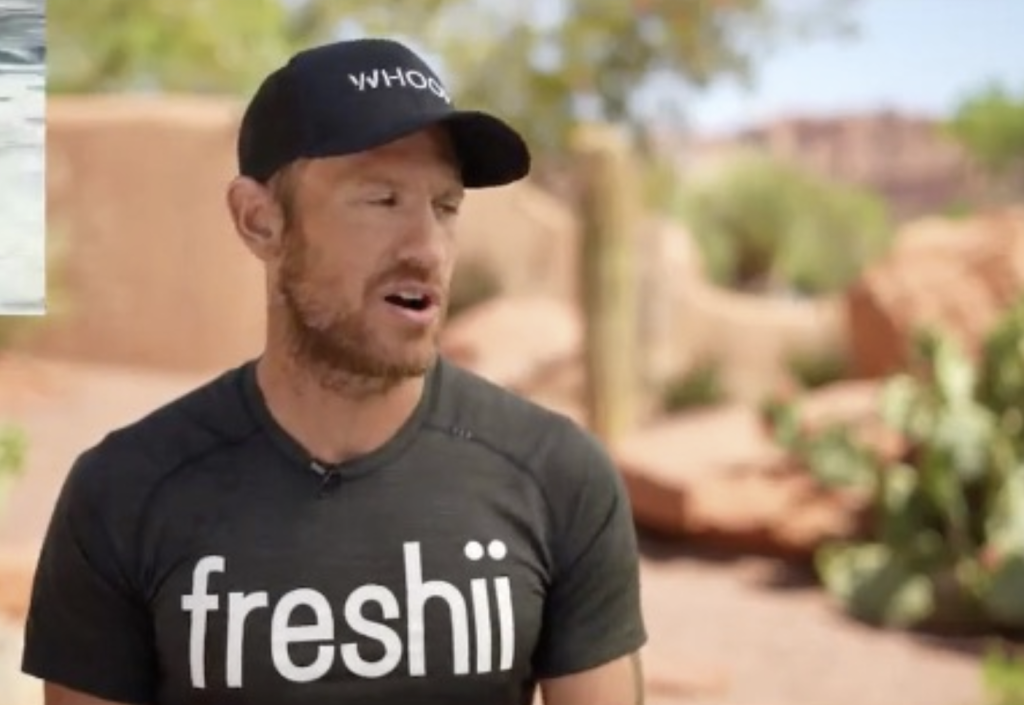 38:00 – An overview of today's race weather.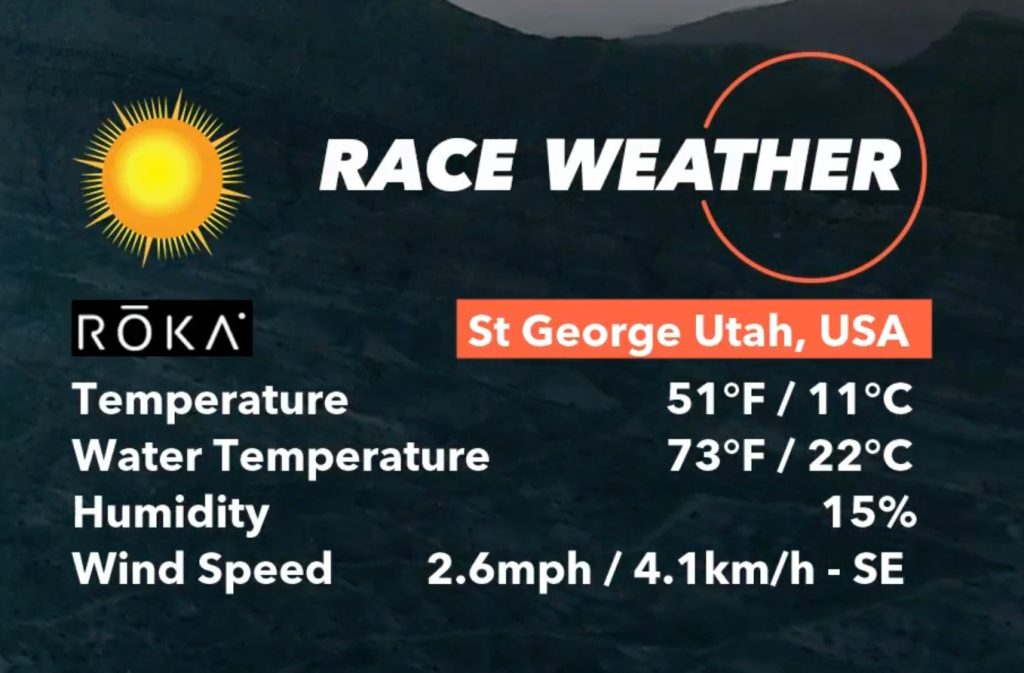 35:02 – Both in the men's and women's race, the field is split apart. The biggest race favorite – Kristian Blummenfetlt – is quite far behind and will need to do some work on the bike.
32:14 – A line of leading men with Daniel Baekkegard in front.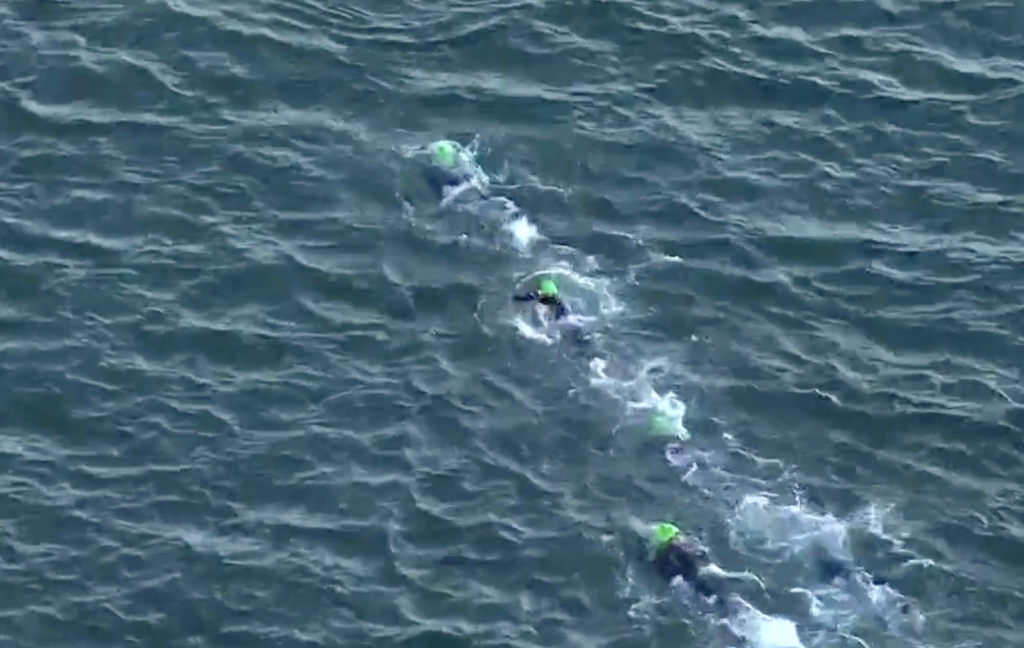 12:43 – Haley Chura is in front on her own, and has created a gap to Fenella Langridge and Lisa Norden.
15:26 – Daniel Baekkegard moved to the front, taking over Braden Currie.
7:55 – Haley Churra, Fenella Langridge and Lisa Norden are leading with a little pack in the water. Behind them, Daniela Ryf is in fourth place, trying to chase them down. The water is choppy and cold.
7:19 – It's Braden Currie who's leading the men in the water.
6:06 – We are starting to see a little break in the men's swim group. Clearly, some athletes struggle with the cold water, as some men were forced to take a little break.
00:00 – The pro women just jumped into the cold water too!

0:20 – The pro men are off! Water temperature: 17.7 degrees Celsius, which means wetsuits allowed!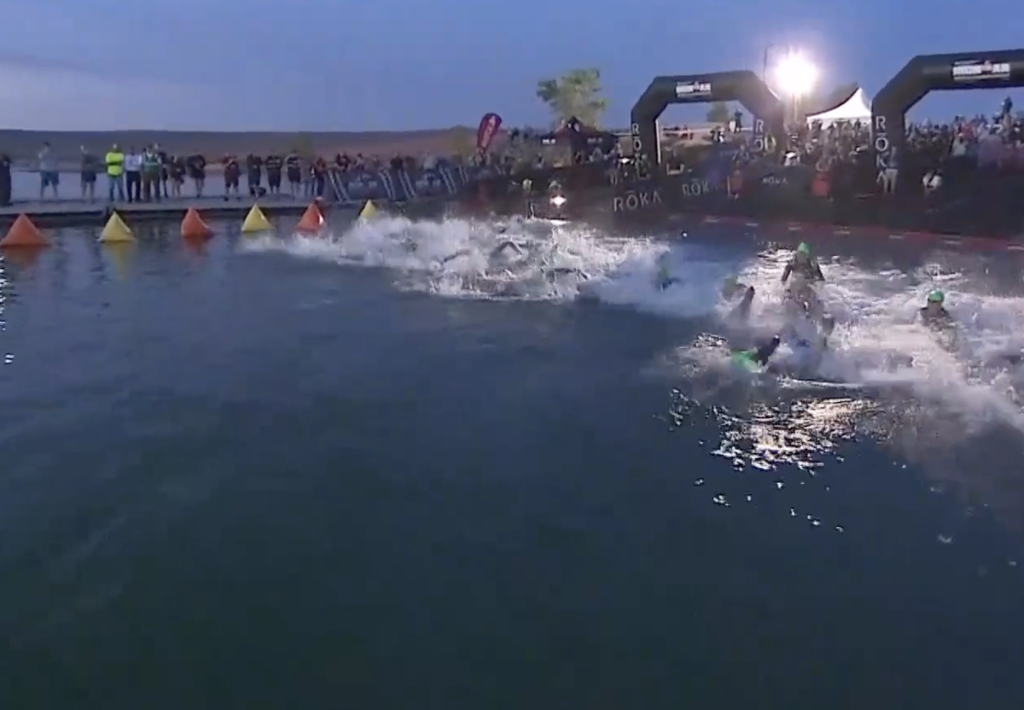 – 1:20 – Some of the biggest race favorites. Check out the names below!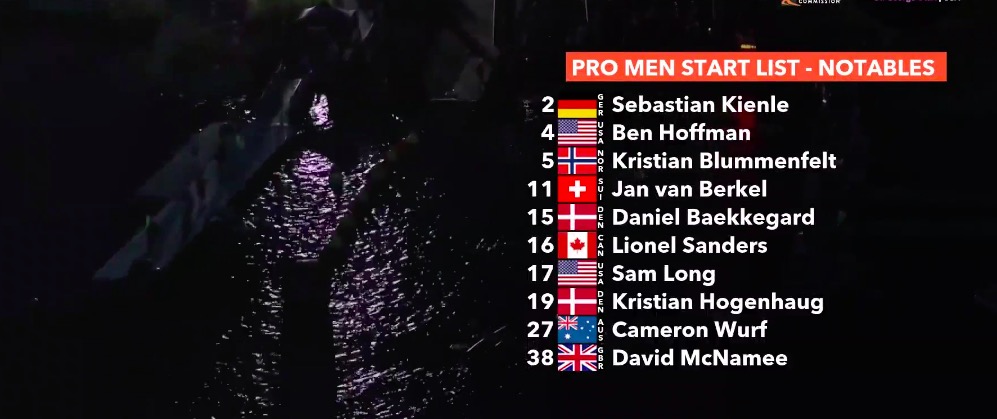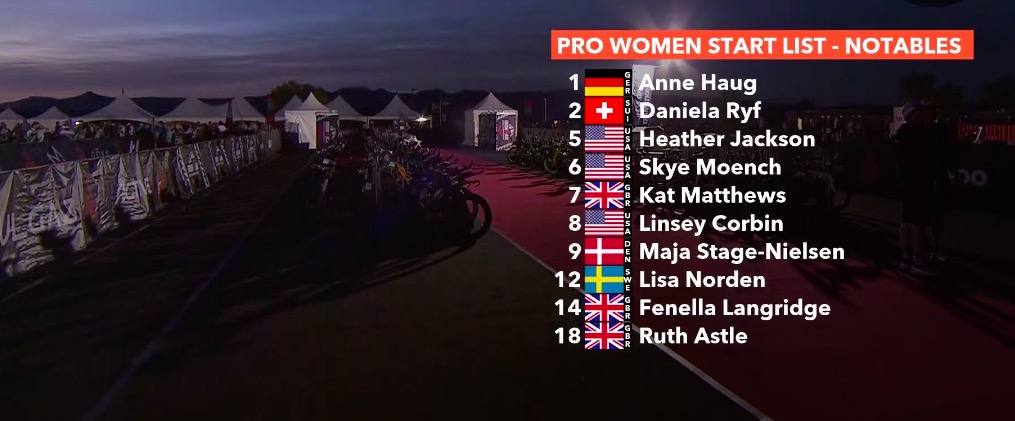 – 04:00 – Only four minutes to go. The wetsuits are on, the pro athletes are lined up, listening to the national anthem, while awaiting the start signal.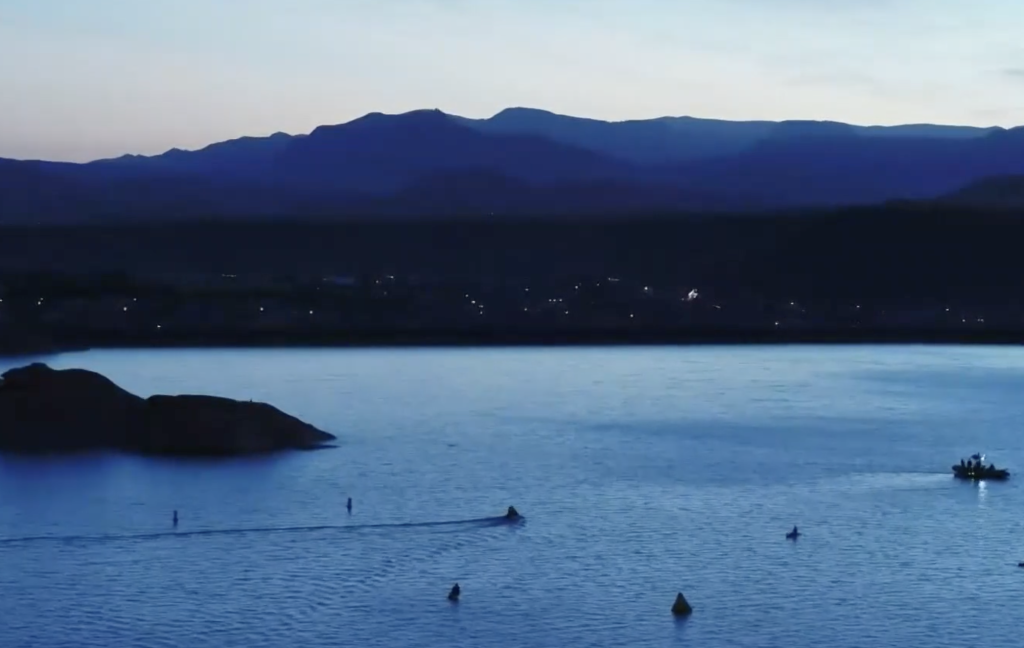 – 08:00 – Although the weather conditions look promising this morning (it's only 12 degrees Celsius and there is little wind) that temperature will likely rise during the day. Add a tough course to that, and you have some rough race conditions.
– 10:00 – The bikes are racked and the pros ready to start a long day of racing!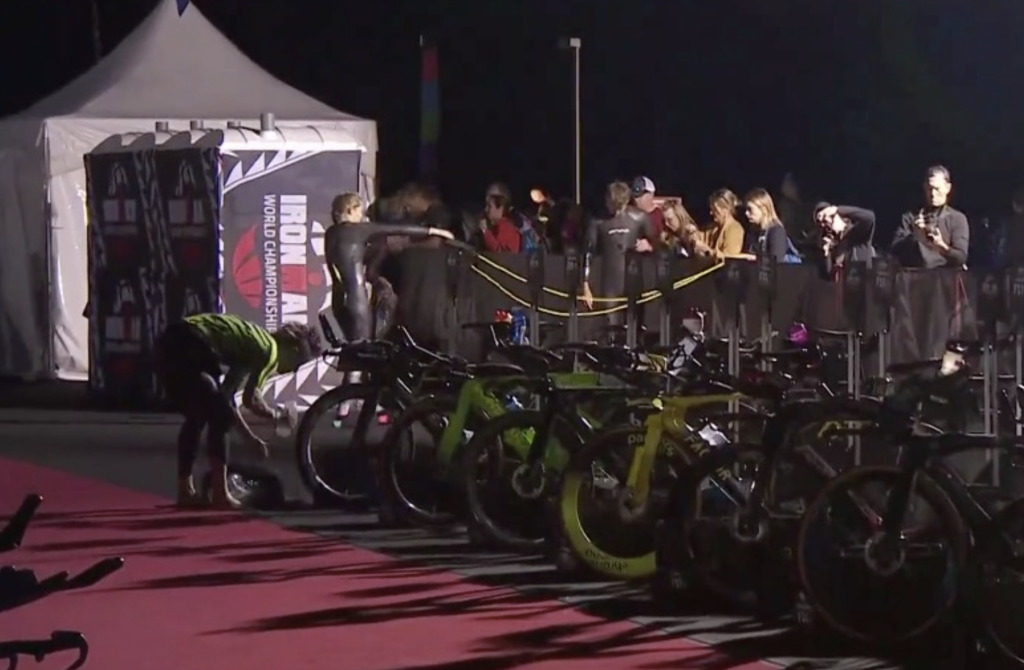 – 21:00 – Unfortunately, there are some big names missing at the Ironman World Championship. Jan Frodeno, Patrick Lange, Javier Gomez, Lucy Charles, Laura Philipp, already announced they won't be racing, but yesterday the list got even longer with Gustav Iden and Alistair Brownlee announcing that they are too sick to race.
– 26:00 – The biggest race favorites for the world titles seem to be Norway's Kristian Blummenfelt and reigning Ironman World Champion Anne Haug. Can they deal with that pressure?
-30:00 – Only 30 minutes to go until the race start. Today's Ironman World Championship will be held in St. George. It's for the first time in the long history of the event that the race takes place outside of Kona.